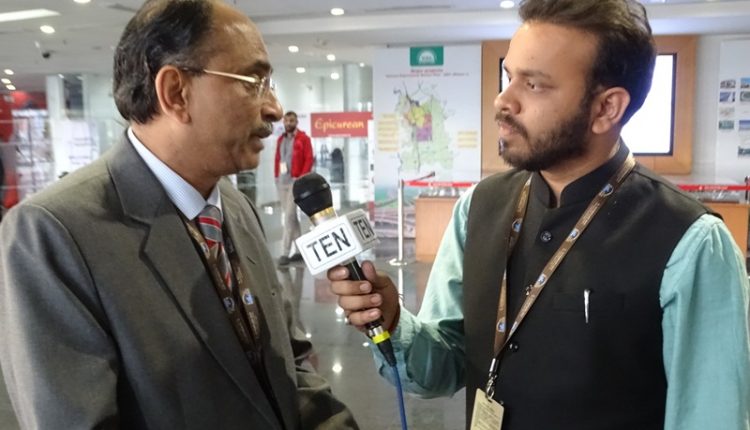 DG SIAM Vishnu Mathur Speaks on the final day of Auto Expo 2018, Answers the 2020 puzzle!
ROHIT SHARMA / ASHISH KEDIA
(14/02/18) GREATER NOIDA :–
Auto Expo 2018 culminated on 14th February after a successful run of 6 days in which 24 launches and more than 100 unveiling were done by different automobile manufacturers. On the final day of Auto Expo 2018 Ten News spoke to Director General of SIAM Vishnu  Mathur to understand what goes behind the curtain to organize such a grand event. Below are the excerpts of the conversation :
How has been the response of manufacturers at Auto Expo 2018?
Over all experience was excellent, yes some companies were missing but there were also some new players in market which are soon expected to come in the Indian Market such as Kia.
Most of the companies have launched electric vehicles in the market as electric mobility getting more priority and there is more focus on green mobility as earth is facing serious environmental issues as well and future of mobility has to consider these factors.
How was the visitor response?
Visitor response was excellent and it has been that way since we had first time organised it in 2014 and now it has continued in the same way in 2016 and 2018 as well. I would like to thank visitor and specially the local people of Greater Noida for making this event a grand success.
Had GST and demonetisation have impact on foot falls and manufacturers too?
No I don't feel so because footfalls are more related with passion and emotion of people which they have for this industry rather than any taxation issue. Demonetization certainly had some impact which was visible in last year but now with time the factors have changed a lot.
Many big brands were missing from the show?
Yes it is company's individual decision and when we asked about it they stated that their product development cycle in not in tune with this expo and many of the products are in pipe line hence we expect that they will have launches in coming years and could be part of the expo in future as well.
What kind of support you got from UP government and district administration?
In one word I would say it was just excellent. All were very supportive weather it is police or district administration and I would like to thank everybody on behalf of SIAM and other organisers.
As people are very curious to know can you tell whether it is happening in 2020 in Greater Noida?
We hope so and will come to you with details as and when it is finalized.