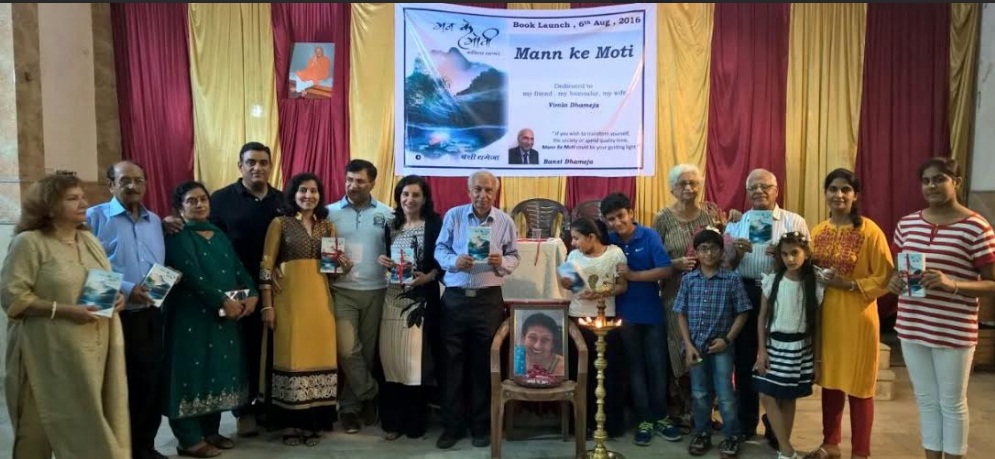 Dhameja's book 'Mann Ke Moti' is a winner all the way: By Bipin Sharma
After a rewarding bureaucratic career spanning 35 long years, and with his children well settled in life, Bansi Dhameja could have easily hung his boots to enjoy the post retirement phase of his life by embarking on exotic holidays to Bahamas, or to the Costa Rica's Tres Rios Mountains. However go getter and ambitious as he had always been, he opted for a more challenging role, that of being a 'crusader' and a 'motivator'.
He felt a natural pull towards contributing holistically to the society, and motivating people to live a more meaningful and wholesome life. The declining moral values in the society too had a great role in stirring him to play the role of a crusader, a motivator, and an activist.
He has always inspired his friends to believe and realize that the age group between 60-80 years is the most critical since one can wholeheartedly devote time during that phase for societal issues and causes. According to him, life acquires a definitive meaning only if the privileged class is able to make a marked difference to the lives of the underprivileged and the distressed beings around them. It makes a huge impact if the crime graph in a society is brought down by preventive measures such as imparting holistic education to young minds. Wherever he goes, Dhameja never misses an opportunity to assert the essence of amalgamating the imperative holistic component with the basic educational curriculum.
The fact that Dhameja is neither a political aspirant nor running a NGO is what sets him apart from others especially since he has undertaken all these altruistic activities purely out of love and commitment for the society and for those in real need.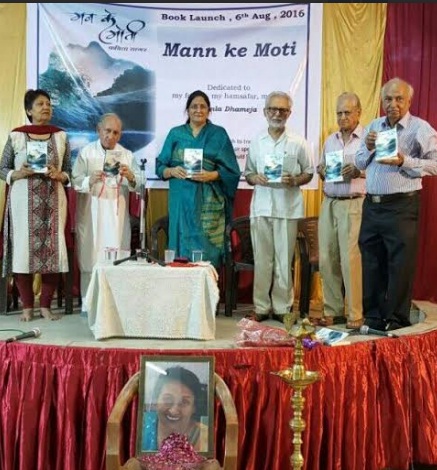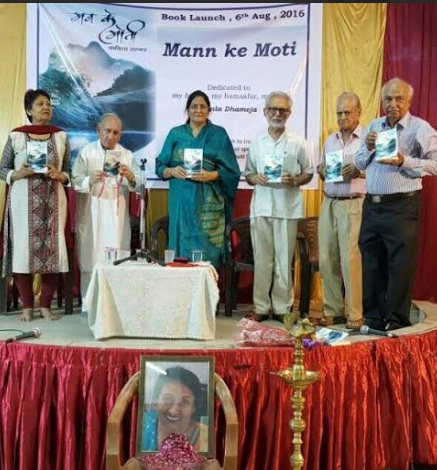 A gifted orator and a motivator, Dhameja recently turned 'author' when he penned 'Mann Ke Moti", a rich compilation of poems. The poems are nothing, but his thoughts, beliefs, ideas and virtues that he wishes to share with people around him. What really pushed him to wear the hat of an author was chiefly the fact that 'books' are instrumental in making a marked significance in transforming the thought process of readers and citizens provided the author has effectively and efficiently communicated his or her larger message through their book.
Albeit the book might seem to be a poetic compilation, it is a 'revelation' with myriad germane deep rooted messages for the society.
Sharing more facts and details about his new book, Dhameja says, "Following my retirement, not a day practically has passed when I have not indulged myself in some or the other meaningful activity. By 'meaningful activity', I mean engaging in an act meant towards bettering the lives of those in real need. What has been really rewarding and worthwhile is the fact that I have inspired many friends and relations to play the role of a 'Samaritan'. The prime objective of writing "Mann Ke Moti" is to convey and share the learning's of a lifetime with a much larger audience. The thrill of life actually begins when one touches '60' since one is usually done with life's hullabaloo, struggles, and the children too are settled in their respective careers. I have perpetually enthused my friends that they need to regard the 'post 60 stage' of their life as a 'payback time phase', and to make the most of their life by making a considerable contribution to the society in whatever possible manner. I firmly believe these years to be the most productive since one has to their discretion, all the time, peace and intellect to improve things around them. A 'book' is a great medium to influence and inspire masses, and this is why I took to the pen to not just merely convey my thoughts and feelings, but to primarily ensure that the readers especially the youngsters are able to derive the maximum possible benefits out of the same. I have been participating in book reading sessions to elucidate more on the inherent messages embedded in my book. As I was giving the final touches to the book, my beloved wife and companion of 45 years passed away leaving a big void in my life. My book "Mann Ke Moti" is dedicated to my wife Vimla, who was a very loving, self-believing and a religious person. Above all, she was a great pillar of support for me. After her demise, I have been assiduously working towards achieving my goal of making this world a better place to live in by contributing in whatsoever capacity possible. There's not an iota of ambiguity that all the proceeds from the sale of my book would be invested towards charitable activities, as this will be the biggest tribute to my late wife. Most of my day's time is spent in conceptualizing new thoughts and plans for the impoverished segments of the society. In 'Philanthropy', what really matters is the 'devotion' with which one undertakes a particular responsibility or a task, and not really the proportion of financial investment that one makes. In the last decade or so, I have been involved in various altruistic activities such as ensuring safe and clean drinking water for slum dwellers, motivating people from EWS strata of the society to enroll their children in schools, encouraging people to give up on vices like drinking, smoking, gambling etc. Simultaneously I have also been emphasizing upon the urgent need of holistic nurturing of young minds at the school level as it directly helps in Character and subsequently 'Nation Building'. It aches to see youngsters paying negligible heed to age old principles such as 'respect for elders', 'compassion for the downtrodden' and 'sincerity' etc. There is nothing more virtuous than treading on the path of honesty. Being a good and caring human being is more important than all the awards, degrees and accomplishments put together."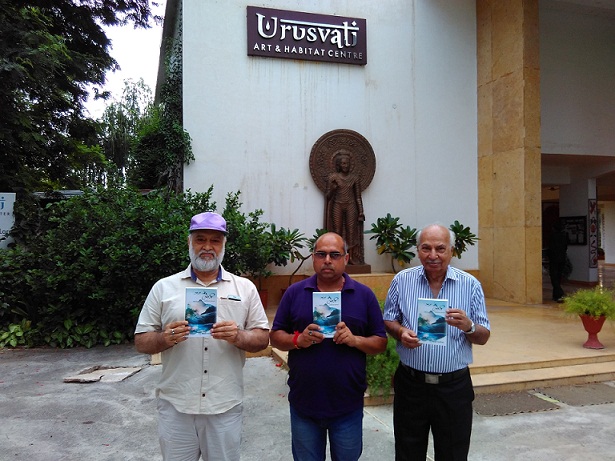 Caving in to the requests of his close friends, Dhameja kickstarted his book launch campaign from none other than the 'Senior Citizen Recreation Centre' in Vikram Vihar which has been a vibrant hub of many senior citizens of the area. The event saw an impressive gathering of close friends, members and relations.
This event was followed by a much bigger scale event organized at the famous Hari Om Temple, Lajpat Nagar that witnessed a large gathering of special invitees. Local area councilor Savita Gupta duly graced the occasion with her benign presence and so did other eminent personalities. From Delhi, the action moved to Urusvati Art & Habitat Centre in Shikohpur, Gurgaon where Dhameja left no stone unturned in passionately introducing 'Mann Ke Moti' to book lovers of the city with all enthusiasm. Situated in the backdrop of the majestic Aravalis, the author couldn't have asked for a more flamboyant launch than this.
Shares Dhameja, "Urusvati Art & Habitat Centre being one of the most amazing destinations for events like 'book launches' allured me to choose it as a venue for my momentous occasion. The Book launch at Urusvati was done by Vipin Bhardwaj, President-Government Approved Tourists Guides Association (GATGA) and Founder President-Tourist Guides Federation of India (TGFI) in the august presence of distinguished guests. In order to successfully propagate the quintessential message of my book to a much wider audience, I will be travelling to different places for personally introducing my book and expounding its pivotal message to curious minds. Making my book a 'Bestseller' is not my target, instead my objective will be served and fulfilled when a substantial section of the society is able to draw inspiration from the deep rooted message that I have endeavoured to convey through my book. Respecting the dignity of women is of paramount importance, and every youngster must be taught to respect women from the nascent stages of their formative education. A great nation is one which respects women and ensures their overall well being. Equally pertinent is to make people sensitive towards respecting foreign nationals, particularly young ladies and women since any untoward incident poses the grave threat of tarnishing the regal image of the entire country. Through the book, I have urged my fellow countrymen to rekindle their lost love for their fellow neighbours by celebrating different festivals together. It is time we became more compassionate towards the elderly, sick and the under privileged section of the society so as to set a benchmark for GenNext to imbibe and emulate. Disheartening that even after 66 years of our independence, the ideals of peace, harmony and brotherhood are still not being fully lived upto. We hardly do anything substantive when we see our fellow neighbours in distress. I envisage a society where there is no space for any hatred and malice. Life's real charm is in living the life of a 'Samaritan' which is by helping people in pain and sorrow. I seek and aspire to be in selfless service of the Humanity till the last day of my life. My joy knows no bounds when my small gestures bring a smile on the faces of those in suffering. That's my real accomplishment."