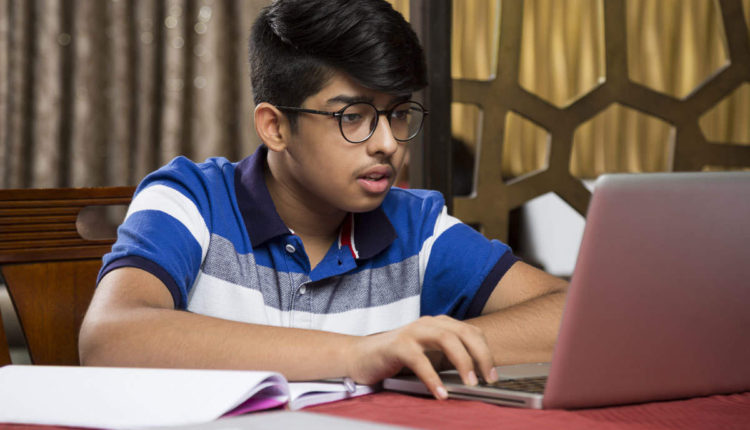 By Dr Jagannath Patnaik, Vice Chancellor, ICFAI University, Sikkim;
Eminent Educationist , Motivational Speaker and Spiritual Mentor
How is the coronavirus crisis and ensuing lockdown affecting teachers? Is it correct to assume that they do not understand the gravity of the situation, and as a result, are unaffected by it? How do I make sense of all of the information related to COVID-19 virus and its impact? This is causing major disruptions to the teacher's schedule who are being asked to do a lot of work for transition into online instruction in a brief span of time while also feeling anxious about their family and community. What are some of the best practices to stay calm and maintain routine in such a situation?
YOU'RE NOT ALONE! We can't control what is happening in and around us but we can control how we respond to it. We can presently see a dissonance in phrases like "be well", "take care of yourself" and "such uncertain times," in emails and messages. There seems to be an irony in such phrases.
Let's consider teachers in the elementary education system who had to metamorphose overnight from face-to-face instruction to distance learning? How are they coping? Are they experiencing stress from this traumatic event? The obvious answer is a resounding "Yes!" Many school students who are forced into online learning now are unhappy and are vocal in expressing their frustrations to their instructors. In fact, one recent trend shows that 90% of students viewed online classes negatively and "distance learning" was viewed as "worse or much worse" than traditional campus classes by more than three out of four.
While teachers grapple with new ways of managing this sudden transition to online education, students are left clinging on to their mobile phones and computer screens. If the lockdowns were to continue for some time, how would higher education be affected? What are some of the deeper issues that require introspection and what does this mean for the future of the students? The world as we know it has changed in the blink of an eye. Schools and colleges shut down overnight, students were liberated from schools and colleges (but confined to their homes), and parents had to struggle with keeping children productive at home. Amidst the stress of the lockdown, hand washing and tracking the global spread of the virus, no one has paid heed to the sudden stress of the often neglected group — teachers. With schools and colleges remaining closed for an extended duration came the reality of online teaching. Suddenly, it was no longer a buzzword or a fancy edtech term but a necessity. The problem here is that only a few of them are tech-savy. Most of their stress comes from trying to juggle all their regular responsibilities alongside online classes.
With the changing face of educational systems and processes, it is important to acknowledge the systemic and structural underpinnings of teacher and educator stress that are very unique to this time period. India's teachers were already burnt out and now are bestowed with high expectations of being distance-learning experts for uninterrupted learning for all their students and caring for the ever-evolving demands of their families, and it's no surprise that their feelings are recently rooted in anxiety. The shift to online modalities of learning has seen an increase in documentation, a restructuring in the way content is curated and delivered, and a rapid change in the job roles and expectations of teachers.
Given the current stringent demands our educators are facing, we can assume that what teachers are feeling now is entirely different from the emotions they were experiencing before the pandemic. But is this true? As the implications of COVID-19 pandemic continues to unfold in our community and globally it is normal for people to experience a wide range of negative thoughts and feelings including: stress, anxiety, worry, racing thoughts, loss of interest in daily activities, increased heart rate, upset stomach, fatigue, other uncomfortable sensation, frustration, irritability, anger restlessness, agitation, helplessness and so on. One may also experience difficulty concentrating, sleeping and may feel disconnected from others and have apprehension about going to public spaces, be unable to cope with stress, anxiety and distress. We can keep such emotions at bay by focusing on the actions that we can control.
The socio-economic disparity in accessibility to technology has forced low-income schools to rethink how they prioritise otherwise unquestioned beliefs of 'completing syllabi', it was interesting to note how net connectivity, absence of home laptops and negotiating one's ease with technology is a source of immense distress even to teachers of middle-income and high-income schools.
Even with experience and familiarity of content, some teachers feel pressured and individually accountable to think "out of the box" and create new ways to deliver their content within the scope of online platforms. As in most work-from-home cultures, the blurred line between work and life has been a source of distress and anxiety for many professionals during the lockdown. As teachers make themselves available to answer calls from students, parents and school management, the assumption that teachers can go about their workday as usual, in the absence of the physical environment of the school, doesn't hold true in reality. While for many teachers, an increase in caregiving load and related chores is an added burden, a lack of physical workspace conducive to attend video calls or record instructional videos is also a pressing issue.
Adding to these pressures, there remains a looming sense of uncertainty about the way forward in the academic year — for how long can we carry on with online classrooms? How and when will schools function as 'normal' and what will 'normal' look like in the classroom? These are questions set in a sense of panic, especially for those involved in school systems in a country like ours- that thrive on learning through classroom engagement with technology used merely as an assistive modality, if at all. There is no denying that these stressors that have an impact on the mental health of teachers are environmental and structural, and emanate from a system that is further draining teachers' sense of autonomy and empowerment. While the uncertainty of the pandemic takes on a life of its own in the months to come, it becomes crucial to foster mechanisms that support, allow room for error, peer-learning and reframe the narrative that romanticizes the emotional labour teachers and educators put into their jobs.
In all these tasks, strong leadership is the key. The post-COVID-19 phase will offer many opportunities to "Build Back Better" that is strengthening quality and equity in educational systems. Countries will need to devote the necessary financing to achieve these goals ― and they will need to bridge digital gaps ― if they want a generation of flourishing young people.
And, finally, it is a growing process for faculty to become effective online instructors — the process takes time and infrastructure. Mentoring and support of faculty should be ongoing and continuous, more than an initial orientation and just-in-time assistance; this growth requires higher education to move from operating on the basis of a crisis to operating within established processes such as online mentoring and coaching for the faculty.
In my opinion the worst characteristic about this pandemic is its uncertainty but if you are a teacher, the uncertainty goes hand in hand with responsibility. You may not know what is expected from you over the lockdown period, how long the school closure will continue or how to handle exams and grades; simultaneously you have to be supportive of your students, colleagues, and your own family. However, excessive worry and fear can destabilize constructive responses to stress, damage your health, and impair the quality of life. The pandemic is an opportunity for everyone to learn, as we adjust into this "new normal" let us not be engulfed by negativity but be the master of what is under one's influence and control.