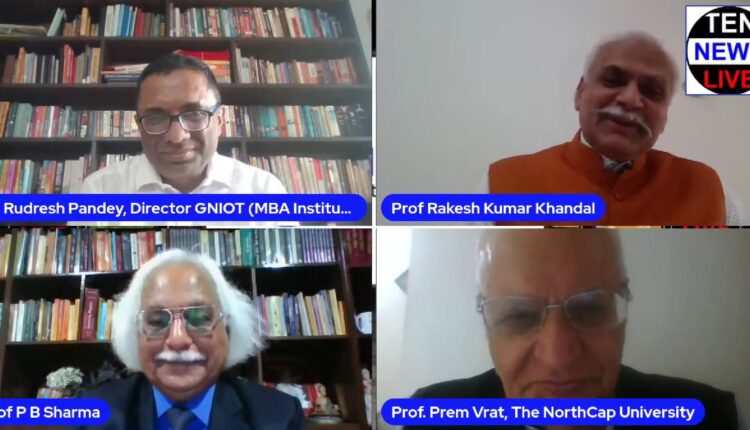 Eminent academicians share views on India's growth story, suggest future course
On the joyous occasion of Aazadi Ka Amrit Mahotsav, Ten News hosted an engaging special discussion that detailed India's growth story in last 75 years.
Esteemed special guests namely VC of Amity University (Gurugram), Prof P B Sharma, Chairman of IIT Dhanbad, Dr. Prof Prem Vrat, President at India Glycols Limited, Dr. Prof Rakesh Kumar Khandal joined the show that was moderated by Director of GNIOT MBA Institute, Dr. Prof Rudresh Pandey. The speakers talked about India's development, growing economy and the social and cultural changes, among other issues.
Prof PB Sharma, in his opening remarks, spoke about how much importance is given only to the economy of the country and not other aspects like unity, non-violence, human health index, and quality of life while judging their development status.
"India's development also lies in concepts such as human civic sense, development of roads and transport, equal distribution of the country's wealth, sustainable development goals, peace, prosperity, happiness, etc.", he said.
Prof Prem Vrat suggested that Indian languages should be incorporated more frequently and widely in all aspects of the country such as a school syllabus. "In order to be more developed, our country's own cultures and resources should be followed and used.", he said in his opening remarks. He also outlined that importance should be given to the correct priorities such as tackling poverty in India, ensuring minimum wastage of resources, abolishing corrupt practices, promoting usage of local products.
Prof Rakesh Khandal put the spotlight on difference between rural and urban regions of India. Rural areas are still under-developed, people living there are still not much educated and they do not have resources such as adequate health facilities, among others, he pointed, adding that "India can only be truly developed when we are independent, well-educated, civilized and our rich history and culture should not be ignored. India can't be called developed when the GDP per capita is high but when every village has lakes, schools, and hospitals."
Talking about the demographic dividend of the young population, Prof PB Sharma stressed on the importance of educating our youth as they are the country's future. "Today's youth should be encouraged to learn about good humane values, the history of our country, the usage of technology, and modern thinking." Prof Prem Vrat adds that focus should be given to knowledge, skill, and attitude, not only textbook education. "Students should be trained to become globally employable.", he said.
Concluding the talk, all educationists had a collective viewpoint that India's further development is only possible when everyone is united to work towards that common goal.
"India is an emerging and developing country (EDC) in southern Asia. It is the world's largest democracy, and one of the world's fastest-growing economies. A united front and further progress should be of paramount importance to us," they said.
Watch the whole discussion below: