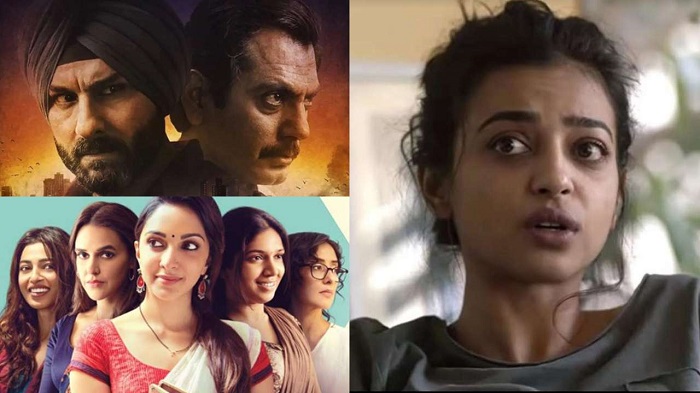 Emmys 2019: Netflix India originals 'Sacred Games','Lust Stories' nominated, Radhika Apte bags Best actor nomination
New Delhi: Team Netfilx delightedly announced on Thursday night that their original series, 'Sacred Games' and 'Lust Stories' have been nominated for International Emmys Award 2019. They further revealed that actor Radhika Apte has also been nominated for the awards in the best actress category for her role in Lust Stories.
Director Anurag Kashyap was quick to share the news on his Instagram handle, he revealed that 'Sacred Games' Season 1, where he was the producer, has been nominated for the Best Drama. The show has been nominated alongside 'McMafia', another show featuring 'Sacred Games' Gaitonde aka Nawazuddin Siddiqui.
Adding to this, film 'Lust Stories' won two nominations, in which one of the short films was directed by Anurag Kashyap. While the movie itself got nominated in the TV Movie/Mini Series category, the female lead from his short Radhika Apte also has been listed for Best Actress.
Anurag had posted screenshots of the nominations on his Instagram page. He wrote, "What a day. 3 Emmys Nominations – Lust Stories (Best Miniseries), Sacred Games (Best Drama) and Radhika Apte (Best Actress for Lust Stories)."
Karan Johar, who had also received huge acclaim for his short in Lust Stories, featuring Kiara Advani and Vicky Kaushal in the lead role, took to Twitter to congratulate his peers. "So proud and excited that our anthology Lust Stories is nominated at the Emmys." Thanking his team consisting of Zoya Akhtar, Anurag Kashyap and Dibakar Banerjee, he added, "Our quartet rocks. Thanks for the support," he wrote.
So proud and excited that our anthology #luststories is nominated at the Emmy's!!! Our quartet rocks! #zoya #anurag #dibakar thanks for the support @RSVPMovies @RonnieScrewvala @ashidua_fue and our amazing platform @NetflixIndia pic.twitter.com/htMiyrbRqj

— Karan Johar (@karanjohar) September 19, 2019
'Sacred Games' season 1 had premiered on Netflix on June 28, 2018 while 'Lust Stories' had premiered on June 15, 2018.
The 47th International Emmy Awards will be held on November 25 at the Hilton New York this year.