Empress Universe Is Proud To Present The 2018 Winners
Talib Khan
India, (13/12/2018): The Grand Finale of International Beauty Pageant Empress Universe 2018 was held in Goa on at Span Suites & Villa, Chopdem-Goa amidst glamour and grandeur. Present at the event were Guest of Honor- Dr. Muktesh Chander IPS – Director General of Police GOA, Chief Guest – Mr. Dayanand Sopte – MLA GOA and Chairman of Goa Tourism, Cheif Guest – Mr. Carlos Almeida, MLA Vasco GOA, Chairman – KTC ( Kadamba transport corporation) and also Chairman of MPDA (Mormugao Planning and Development Authority).
Empress Universe Petite was won by Melidah Mokgadi, 1st,2ndand 3rd runner ups were Sony Talukdar, Eldee Reyes and Dhwani Sharma respectively.  Ms. Empress Universe was won by Ms. Fawzia Nadhar and the three runner-ups were Pauline Sidhu, Moubani Sorcar and Marcia. Mrs. Empress Universe was won by Sneha Deepak and the three runner ups were Davinder Sands. Bibi Mehnaz and Simrat Marwah. Empress Universe Elegance was won by Emma Maria Torres and the runner up was Monica Sukhija.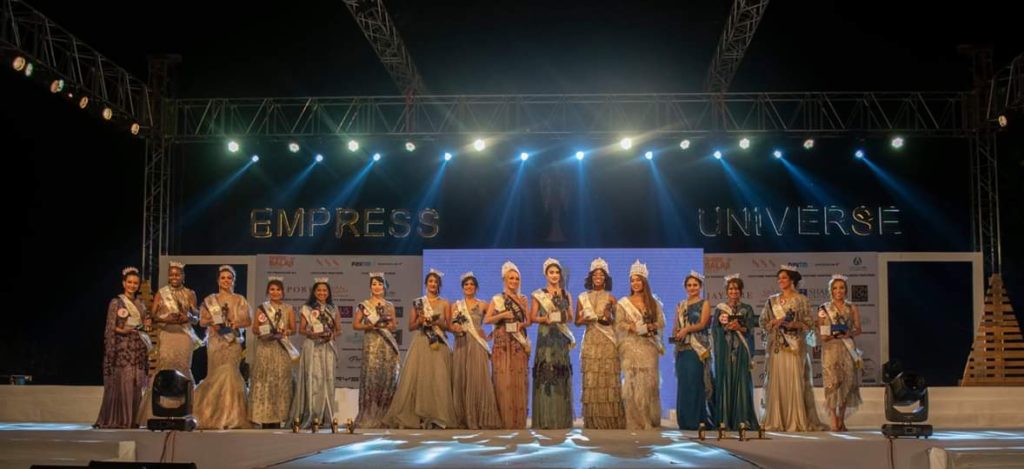 The beauty pageant aims to bring beautiful, strong spirited women from all around the world who have the potential to inspire a positive aspiration in women. Though the definition of beauty may be subjective, but what remains universally true is that what's beautiful within and without is beautiful throughout.  Through our initiative, we aim to create a light source, if we may, which becomes the platform of hope to each woman who wants her voice to be heard, who is on the downside of advantage, who wishes to bring a positive change to her and the world around her.
The Principle Jury for the event included Mrs. Shelly Maheshwari Gupta – Founder and CMD Empress Universe Limited, Mrs. India, Mrs. Asia Pacific and Mrs. Universal , London , Mrs. Mahima Chaudhry – Renowned Bollywood Actress and Former Miss India, Mrs. Pallavi Mohan – Designer and Owner, NSS- Not So Serious , Mrs. Sunita Chander – Women Empowerment socialist, Mrs. Jyoti Gupta – MD, C L Gupta World School, Mrs. Jenifer Almedia – Women Empowerment socialist, Mr. Ravin Jain – Chairman, Jaianita Group of Industries, Mr. C.J. Singh – Chairman – GSC Glass Limited, Mr. Sandeep Malhotra – Renowned Entrepreneur, Mr. Ashwini Chaudhry Renowned Hotelier & Entrepreneur, Mrs. Gazal Bhambri, Ex State Head – CII, Business entrepreneur. The Show was hosted by renowned Television and film actor Siddhaanth Vir Surryavanshi. The show was choreographed by Alesia Raut and team.