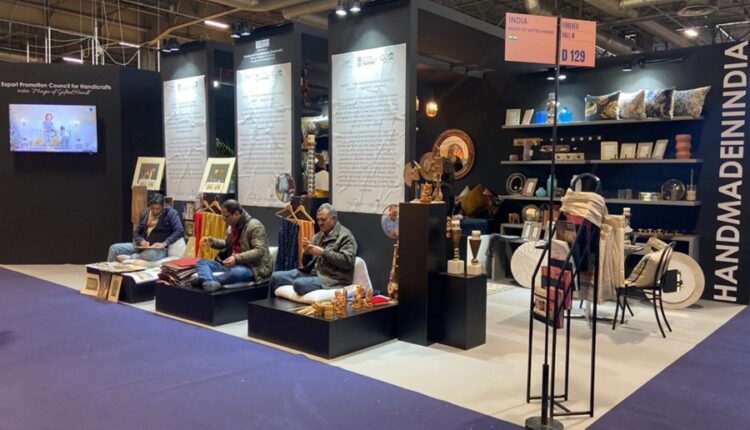 EPCH showcases Indian handicrafts at "Maison & Objet" 2023 in France
New Delhi, 21th January'2023 – The Maison & Objet 2023 got underway from 19th – 23th January' 2023 at Paris, France with EPCH Thematic Pavillion namely "Indian Handicrafts – Magic of Gifted Hands". It is a great opportunity for India to showcase Indian handicrafts in the world famous design oriented fair and create India as a sourcing destination for Handicraft Products informed by Rakesh Kumar, Director General – EPCH.
He further said that Maison & Objet 2023 has been bringing together the international design, home decor and lifestyle community under one roof. Maison & Objet, being multicultural crossroads of contemporary living, places for meetings and exchanges, invites exhibitors and visitors from around the world and showcase a high-quality international product range. It provides a comprehensive overview of the excellence and innovation that help to share the best of creativity.
To promote Indian Handicrafts, EPCH has setup Thematic Display with live demonstration of Indian Traditional Crafts by three Master Craftspersons / Artisans. The office of Development Commissioner [Handicrafts] has deputed three Master Craftsmen of Sandal Wood Carving from Rajasthan, Miniature Painting from New Delhi, Pashmina Kani Shawl Weaving from Jammu & Kashmir, informed by R. K. Verma, Executive Director – EPCH.
R. K. Verma, Executive Director – EPCH further elaborated, "Maison & Objet Paris" is regularly organized twice a year in January & September at Paris, France and considered to be the gateway to designer world for last 25 years. Maison & Objet fair is the major event for professionals working in the art of living in all its rich and varied expressions. More than 45000 visitors are expecting to visit from 88 Countries to fair. India's participation will increase the fair's vibrancy and diversity, as well as familiarise global manufacturers, retailers, and brands with the vibrant entrepreneurship in the Indian textiles and home furnishing consumer products industry, opening up opportunities for sourcing from India.
EPCH is a nodal agency for promoting exports of handicrafts from the Country to various destinations of the world and projecting India's image abroad as a reliable supplier of high quality handicrafts goods & services. The Handicrafts exports during the year 2021-22 was Rs. 33253.00 Crores (US $ 4459.76 Million) registering a growth of 29.49% in rupee term & 28.90% in dollar terms over previous year. The exports of handicrafts items to France during the year 2021-22 is Rs. 1194.46 Crores (US $ 160.20 Million) registering a growth of 20.75% in rupee term and 20.21% in dollar term over previous year informed by Rakesh Kumar, Director General – EPCH.