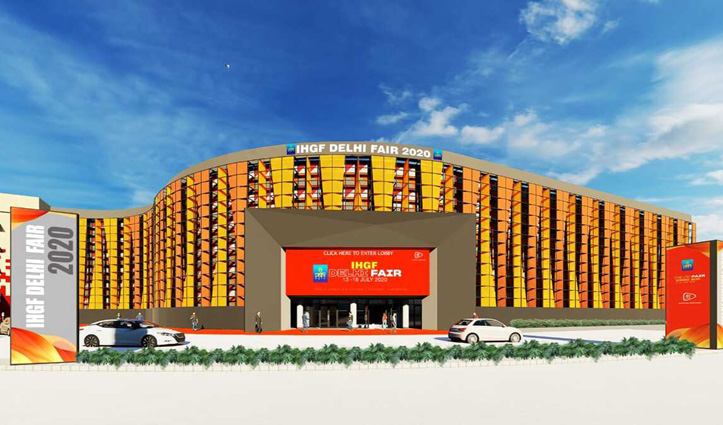 EPCH takes upcoming flagship trade fair "IHGF" online, boost in number of buyers expected
Greater Noida, 30th June, 2020: Indian Handicrafts and Gifts Fair (IHGF) 2020, a flagship trade fair organized by the Export Promotion Council for Handicrafts (EPCH) biannually, is coming back after a delay of around 5 months amid the spread of Covid-19.
The IHGF is set to be held during 13-19th July, 2020 on a virtual platform.
Ravi K Passi, Chairman – EPCH informed that the trade fair will oversee the participation of 1,500 exhibitors from across the country and will features products in 14 segments including Gifts and Decoratives, Furniture & Accessories, Home Furnishings, Houseware, Lamps and Lighting, Christmas and Festive Décor, Carpets & Rugs, Bathroom and Bath Accessories, Garden and Outdoor, Educational Toys and Games, Handmade Paper Products and Stationery, Candles, Incense & Potpourri, Fashion Jewellery & Accessories and Leather Bags & Cases.
"We have done extensive promotion through various mediums and we expect very good response from the buyers."
The IHGF is being organized on an virtual platform for the first time. The platform is designed in such a way that it will enable the buyers to explore the products and to interact with the exhibitors seamlessly through a chat feature. The virtual platform will remain open 24/7 during all the days, so that every country has equal opportunity to explore the products irrespective of their time zone(s).
Rakesh Kumar, Director General – EPCH said that the EPCH became the first mover in the sector by organizing the first virtual show – "IFJAS" back in the month of may.
On the response of buyers, Kumar said that we have received confirmation from over 2,000 buyers so far and all of them are big distributors, wholesalers in their respective countries. "Our target however is to get over 7,000 buyers on the platform which is a big number in comparison to a physical show."
On the ongoing anti-China sentiments in the country, Anchal Kansal from Buying Agents Association said that India can leverage the anti-China movement across the globe as people and businesses now want to turn away from China to come to India.
Rakesh Kumar said that the anti-China sentiments will not have a considerable impact on the handicrafts sector because India is not much depended on Chinese imports for the Indian exports except in electric items such as LEDs.
"The size of domestic handicrafts market in India is Rs 17,000 crores, the rest of the handicraft products were coming from China. Now due to the anti-China sentiment, the domestic handicrafts market will get a boost."
On the impact on the Handicrafts sector in the current fiscal, Kumar said that the Handicrafts sector is going to witness big decline of about 40% in the current fiscal. "However, if we are able to organize our October show (IHGF Autumn) then the 40% gap may come down."