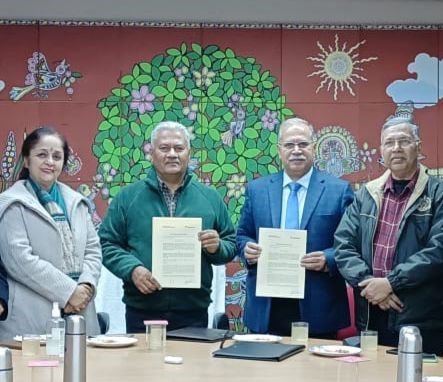 EPCH-WII join hands for providing certification services to Pashmina exporters

New Delhi – 5th January, 2023 – Today a MoU has been signed between Export Promotion Council for Handicrafts and Wildlife Institute of India, Dehradun to setup a dedicated facility for Pashmina test/certification and provide authentic and accredited certification services to the Pashmina exporters in a time-bound manner to enable the members of EPCH to meet the compliances in domestic and international market, informed Rakesh Kumar, Director General-EPCH.
Wildlife Institute of India, Dehradun is an autonomous institute of MoEF&CC, Govt. of India established in 1982. WII is an internationally acclaimed Institution, which offers training programs, academic courses and advisory in wildlife research and management. WII is actively engaged in research across the country on biodiversity-related issues and collaborates with national and international organizations and institutions to pursue research on wildlife across India. WII has a dedicated team of expert 'scientists and technologists' and a 'state-of-the-art' facility with high-end equipment for research and analysis for producing scientific analysis reports/protocols in the fields of wildlife forensics and conservation.
The MoU was signed by Dr. S.P. Yadav, Director-WII and R.K. Verma, Executive Director-EPCH in the presence of Bivash Ranjan, ADG (WL), MoEF&CC; Dr. Ruchi Badola, Scientist-G, Dean & Registrar, WII; Dr. S.K. Gupta, Scientist-F & Nodal Officer, Wildlife Forensic and Conservation Genetics (WFCG) Cell, WII; C. P. Sharma, Senior Technical Officer, WFCG Cell, WII and Rajesh Rawat, Addl. Executive Director-EPCH.
Through this MoU, WII will share their technical know-how and assistance in running the EPCH's Test Lab at Dehradun, as they are also one of the Gazetted scientific experts nominated by the Government of India and will enable EPCH to provide an accredited testing and certification services to the pashmina exporters within reasonable timeframes to meet their buyer requirements in overseas and international markets, informed Rajkumar Malhotra, Chairman-EPCH.
EPCH is a nodal agency for promoting exports of handicrafts from the Country to various destinations of the world and projecting India's image abroad as reliable supplier of high quality of handicrafts goods & services. The Handicrafts exports during the year 2021-22 was Rs. 33253.00 Crores (US $ 4459.76 Million) registering a growth of 29.49% in rupee term & 28.90% in dollar terms over the previous year, informed by Rakesh Kumar, Director General, EPCH.