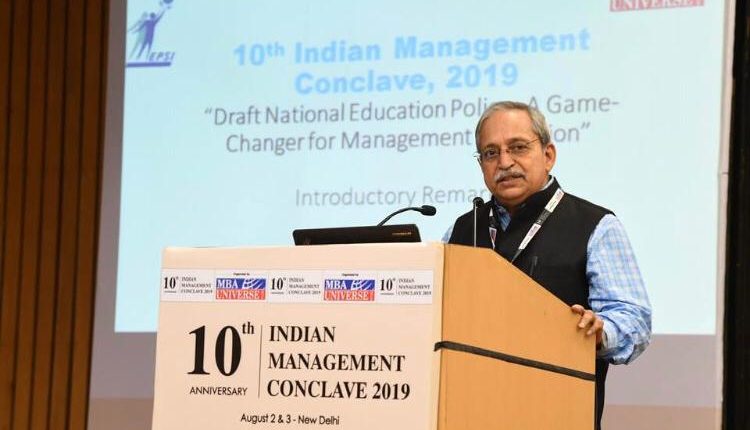 EPSI presented white paper on the theme : Pathway for 5 trillion USD Economy
New Delhi : (04/08/19) 10th Indian Management Conclave-2019 was concluded at IIC, New Delhi on August 3rd with a powerful valedictory address by former President Dr Pranab Mukherjee. Two days' conclave was organised by MBAUniverse.com. The Education Promotion Society for India(EPSI) and BIMTECH, lent their support as usual.
Yesterday, a special session was organised on the topic of " Draft New Education Policy & Implications for the Management Education". The main speaker and the Guest of Honour for this session was  Dr Anil D Sahasrabuddhe, Chairman, AICTE. Four panellists. were Dr Rajan Saxena,VC, NMIMMS University, Profesor Furqan Qamar, Former, Secretary-General, Association of Indian Universities, New Delhi, Dr Atmanand, Director, MDI, Gurugram and Dr H Chaturvedi, Director BIMTECH. It was also moderated by Dr Chaturvedi.
Dr Anil Sahasrabuddhe, in his keynote address, has hoped that the Draft NEP provides full autonomy to business schools but at the same time, there will be some mandate for management institutes to provide free education to needy students from poor families.
A major feature of this Special Session was the release of EPSI-Indian Management Conclave White paper on the theme of " The Pathway for 5 trillion USD Economy traverses through A Resurgent Higher Education". It has been jointly authored by Dr H Chaturvedi  and Mr Amit Agnihotri. Dr Jagdish Shettigar and Prof K K Krishan of BIMTECH provided  their valuable inputs for this white paper.