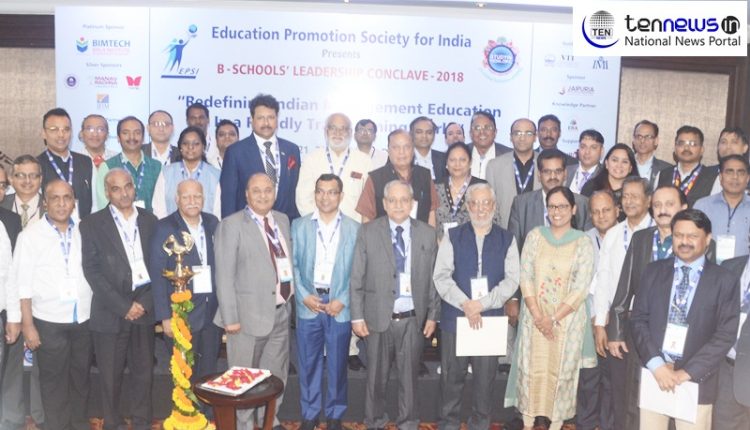 New Delhi: The EPSI's B-Schools' Leadership Conclave 2018 was held at The Claridges, New Delhi on 21 (April), 2018 Organised by the Education Promotion Society of India, on the theme of "Redefining Indian Management Education In Rapidly Transforming World". The event started with lamp lightning ceremony by the Chief Guest AICTE Chairman, Dr. Anil Dattatraya Sahasrabudhe.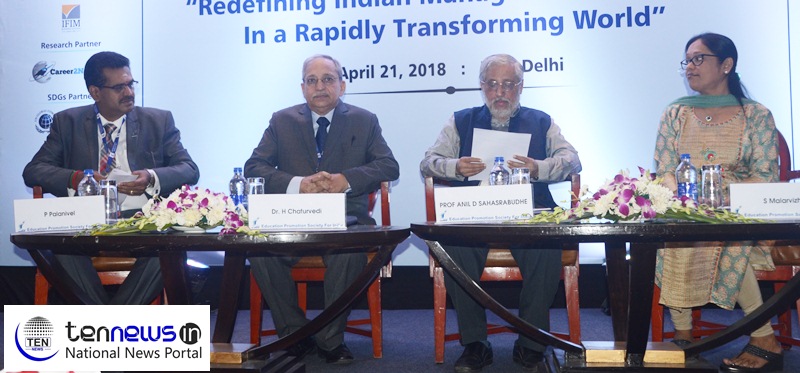 The Conclave had a stellar line up of speakers. Dr. Anil D Sahasrabudhe was the Chief Guest for the conclave. Sharing her thoughts during her welcoming note, Ms. S Malarvizhi, Vice President, EPSI & Chairperson & Managing Trustee, Sri Krishna Instutions, Coimbatore spoke about recently held Smart India Hackathon and Dr. Sahasrabudhe's role in it.
She said, "Technology and business have blended together in modern age. EPSI has been in forefront providing issues and solutions to bridge the gap between education sector and countries requirement. Business models in today's competitive model are influencing education to a large extent. Business tools need to adopt new technologies. It is essential that your education rises to International standard and even more so that Indian business education set's up its own benchmark".
Dr. H Chaturvedi, Alternate President EPSI & Director BIMTECH, Greater Noida spoke next and gave a roadmap for Indian Management Education for Rapidly Transforming World. He said, "Forth Industrial Revolution is bringing huge opportunities for the management education sector. I have collected data to see how much is the reach of this conclave and I am delighted to say that more than 14 states of India are represented through various delegates in this conclave. B-School stakeholders have been meeting for last 8 years and we have been discussing various issues concerning Higher Education Sector of India. Our issues pending since 2010 have been resolved by present regime and AICTE Chairperson and we thank them for the same".
Addressing the conclave through Video Conferencing Prof. Jagdish Sheth, Charles H. Kellstadt Professor of Marketing, Emory University, USA, delivered Keynote Address and gave a brief presentation. He started with elaborating reasons why good institutions fail and talked of styles of management. He said, "Crisis management is short term, it can only temporarily fix problem but won't resolve it. Leadership is all about bringing high changes and good leaders know how to convert challenges in to opportunities".
Taking his presentation further he said, "I articulated seven challenges that are facing India's education sector. First among them is policy uncertainty. Secondly we need to keep a tap on rise of private universities".
AICTE, Chairman, Dr. Sahasrabudhe said, "We have a rapidly transforming world. The technology is changing rapidly and we have to talk about not only Industry 4.0 but more about Education 4.0. We are in isolation with industry and we should put in extraordinary efforts to connect industry with changes that are happening in education industry and vice-versa."  He advised the universities and institutions to organise Leadership Programmes for Faculties to create Leaders.  The numbers of seats that are remaining vacant have become a great challenge. We need to consolidate good quality education provider. Out of 3334 total management institute, 102 have applied for full closure and many have applied for seat reduction. However now what is most important is that institutes which are continuing should provide education parallel to global level."
The summit included Panel discussions on Topics like "Industry 4.0: Changing Business Landscape – How Should B-Schools Respond?, "Regulatory Issues before Management Education" and "Developing New Age Model For Managing India B-Schools". The panel had a diverse mix, stake holders from Eminent Higher Education institutes of India were present during the conclave.
Summarizing the days proceeding at the end of conclave Dr. H Chaturvedi, Alternate President EPSI said, "There has been an overwhelming response from all over the country and we had about 130 participants and speakers from 15 states. Some of the leading private schools and IIM's were represented by the speakers. AICTE Chairman Anil Sahasrabudhe inaugurated the conclave. The critical issues related to Indian Management education, its challenges were deliberated and very concrete and constructive insights were shared by leaders of B-school. I think this has been a very successful conclave of B-Schools and I am sure it will give a new direction to B-Schools all across the country.
EPSI's B-Schools Leadership Conclave 2018 : Video Highlights
EPSI's B-Schools Leadership Conclave 2018 : Photo Highlights