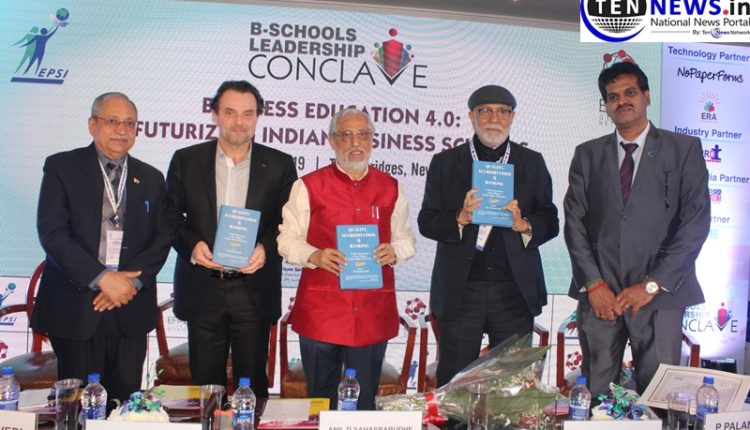 EPSI's B-Schools Leadership Conclave 2019 Concludes in National Capital!
Prerit Chauhan / Rohit Sharma / Baidyanath Halder
New Delhi (28/02/2019) : The Day-2 at EPSI's 'B-Schools Leadership Conclave' on the Theme Business Education 4.0: Futurizing Indian Business Schools Began with a Plenary Session on the Topic 'Regulatory Policy for Developing Futuristic B-School In India'.
The Plenary Session saw the Participation of the Dignataries like, Rattan Sharma, President, AIMS, Dr J K Das, Director, FORE Dr D N Pandey, Director, Jaipuria Institute of Management,Noida, Kamal Singh, Executive Director, UN Global Compact Network India, Dr. H. Chaturvedi, Alternate President, EPSI.
The Panelist discussed how MBA/PGDM Programmes faced a rigid regulatory regimes, which underwent a major change after 2015 onwards and Looked forward to the next five years and the i requirement of a regulatory framework which is supportive to innovation, experimentation and entrepreneurship.
Dr H Chaturvedi, Alternate President, EPSI in his address said,
"Current growth of Business Schools in India is Only 25 years old although the first few B-School were started in 50's and 60's but till 90's there were hardly 120 B-Schools. In 1993 taking que from the Liberisation of the economy. Government of India and Ministry of education has taken a decision that it will licenses to Autonomous B-Schools which are known as PGDMC Institutions. In last 25 years Business Education in our country has evolved and it has faced up and down."
"Dr. J K Das, Director, FORE Addressing at EPSI's B-Schools Leadership Conclave 2019 said,
"We have been in India for long and acedmics for long. Education in India run by the government of India. Anyone who has money in the pocket won't send their child in a government school till 12th.if i speak about higher education the parent are willing to send their kids in government colleges. The difference is very fundamental. The difference is the governance is done by the government till 12th. Come to higher education the IIT's and IIM's the fundamental rights completely changes and the accountability of the board is much higher."
Kamal Singh,Executive Director ,UN Global Compact Network India, said,
"In 2015 United nation introduced 17 sustainable goals which were accepted by all of the country. On of the key SG's which was introduced was quality education. I'm happy to say that countries like China, Europe and America have achieved lot of success we india need yet to achieve that."
Dr Rattan Sharma, President, AIMS said,
"When I talk about the top institutions they set the trend. We have to see futurization of the B-Schools takes place. Okay before we see Futurization we have to see what we are doing today. As a business school professor when we teach we realize it that there are two important things which come up with the business schools. One we want to get into teaching and training and we want to develop thoughts leaders for the business schools. Second I was talking about thought leadersship. "
Amit Agnihotri, Founder, MBAUniverse.com said,
"Do we have to many business schools in the country and we know their are 3500 business schools in India. Look at china which is 6 times bigger in than than India and around 1000 business schools in the country. So does India need so many business schools is the question to be asked."
Dr D N Pandey,Director, Jaipuria Institute of Management, Noida said,
"Shaping the leaders of tomorrow is an immense responsibility for business schools, even though schoos themselves are in a state of constant change where market pressures and performance indicators are in balance with corporate relevance and societal impact."
Dr. Anil Sahasrabudhe,Chairman, AICTE Addressing the Valedictory Session said,
"Business education should also adapt to the Changes in the internet age. The internet has led to a transformation from linear into non-Iinear management and from mass production to mass customisation in businesses. This change has brought new Challenges to management education, rendering the type of programmes designed for linear management irrelevant in the context of nonlinear management practices.
While Speaking to Ten News at the Event, Kamal Singh,Executive Director ,UN Global Compact Network India, sharing the thoughts About the Conclave said,
"To me it is timely where business schools are reinventing Business demands and specially when people are taking about Industry 4.0. So this engagement which is Presented today specially with all the stakeholders is very important for all of us."
Dr. Pritam Singh, Ex-Director, MDI & IIM, Lucknow said,
"One is that Futurizing means we are looking at unborn child. So Futurizing title is very belivable here because those who think of tommorow will survive today as well as Tommorow. Second thing is business plays a very significant role in the development as any branch leaders are grommed by the business schools."
//tennews.in/photo-highlights-day-2-at-epsis-b-school-leadership-conclave-2019/
//tennews.in/video-highlights-day-2-at-epsis-b-school-leadership-conclave-2019/