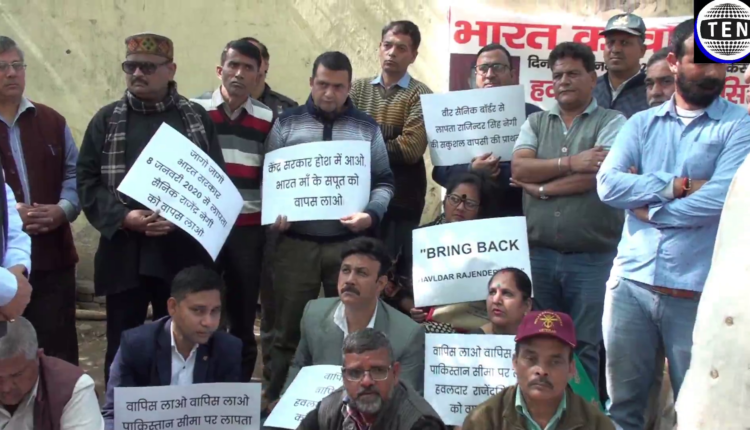 Ex service men slam government for indifference in Army Havildar missing case
Saurabh Singh / Harinder Singh
New Delhi : Today hundreds of Ex service man from Dehradun held a protest at Jantar Mantar against the government demanding prompt & needful action in Indian Army Havildar Rajendra Singh Negi's missing case.
Indian Army Havildar Rajendra Singh Negi allegedly slipped in the snow on January 8 at Gulmarg, Jammu and Kashmir, during duty and reached Pakistan.
On January 8, Negi's wife Rajeshwari received a phone call from his unit, which said that Negi was missing. It was later found that he had slipped in the snow and accidentally crossed the India-Pakistan border in Kashmir.
The aggrieved protestors has demanded the government for his safe and early return from Pakistan to his homeland. Ex Army Personal expressed their disappointment alleging the government of not taking concern of the matters in which it needs to.
One of the protestor alleged, "Wife of the missing solider is admitted in a Dehradun based Army hospital, but till now no one form the government side or defence personnel asked for her family wellness. Insted of that salary of the solider is being halted."
"It's been more than a month since Rajendar is missing, but they way government has proceed in the matter shows the double standards and discrimination between a solider and an officer. We urge government for prompt action as it was taken for Wing Commander Abhinandan Vartamana." He added.
According to Army sources, the search and rescue operation of Negi was underway and all attempts were being made to bring him back safely from Pakistan.
Negi, a resident of Ambiwala Sainik Colony in Dehradun, had joined the 11 Garhwal Rifles regiment in 2002. He had arrived in Dehradun in October for a month's vacation and was posted to the snowy area of Gulmarg in November.