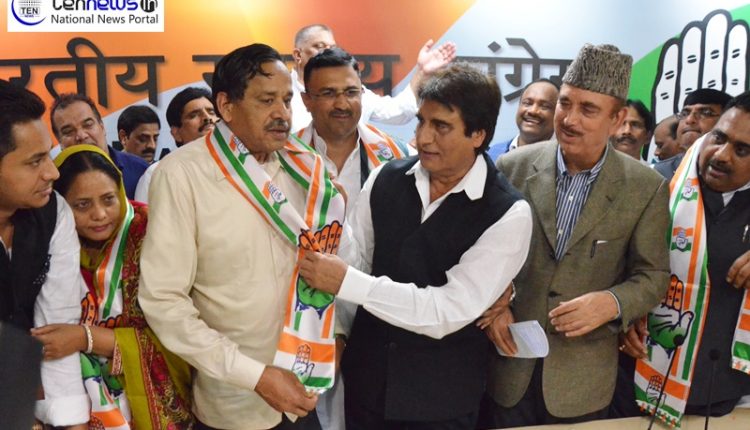 New Delhi: Expelled BSP leader Naseemuddin Siddiqui formally joined the Congress, which said the development implied "changing times" in its favour on Thursday at party office in Delhi.
Beside Siddiqui, some former Uttar Pradesh ministers also joined Congress on Thursday.
Siddiqui was expelled on May 10 2017, for allegedly carrying out anti-party activities in the wake of its debacle in the Uttar Pradesh Assembly polls.

The announcement in this connection was made at a briefing in New Delhi by All India Congress Committee (AICC) general secretary in-charge for Uttar Pradesh Ghulam Nabi Azad and Uttar Pradesh Congress chief Raj Babbar. Besides Siddiqui, who was considered as the Muslim face of the Mayawati-led party, three former UP ministers, including OP Singh and Liyaqat Ali and ex-MLAs, also joined the party.
"We welcome these leaders and their supporters. This implies changing times," Azad said at a briefing at the AICC headquarters here.
While addressing media persons Siddiqui was often naming BSP instead of Congress. When congress leader prompted he replied, "BSP is deeply rooted in my memory, it will take time to remember Congress's name."

Siddiqui belongs to Banda district of Uttar Pradesh and prominent Muslim face of BSP in UP.
Last month, disgruntled BJP MP from Maharashtra Nana Patole had returned to the Congress. Patole had joined the BJP ahead of the 2014 general elections.
Meanwhile, several of Siddiqui's supporters had gathered at the AICC head office in large numbers as he entered the UPA major. He also announced that the Rashtriya Bahujan Morcha, he floated after being expelled from the BSP, was merged with the Congress.