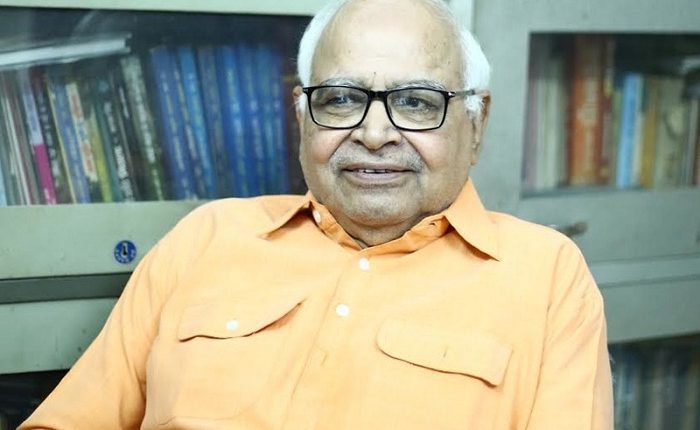 Faculty Development Programme at G.B.U concludes today, UP Legislative Assembly Speaker Hriday Narayan Dikshit joins as chief guest
Uttar Pradesh Legislative assembly Speaker, Hriday Narayan Dikshit joined as Chief Guest at Gautam Buddha University on 2nd August 2020 in Valedictory Session of Two Weeks Faculty Development Programme on relevant Issue of "Online Teaching Pedagogies: Developing Competencies for Best Practices". This FDP was online, practice based training programme for college and university level academicians for developing skills to teach online effectively. Hundreds of teachers not only from India but also from abroad learnt by attending it.
Speaker of Legislative Assembly Uttar Pradesh showed his happiness on hundreds of teachers who spent two weeks pondering over online teaching skills in this that too at a time when the entire educational landscape is undergoing tremendous changes. He further said that 'Online Teaching' will be going to be a common trend and emphasized that the successes of the new education policy have been largely depending on the overall preparedness of teachers. He showered his blessing on the FDP participants and called them as 'Saraswat Son' as they have worked day and night in this faculty development program for the development of online teaching pedagogies with serious practice. He gave good wishes to all that they have done with this timely venture, the society needs it immediately. Because Corona has created conditions in front of us that will increase the use and application of technology in the education sector.
Hriday Narayan Dikshit envisioned that technological innovations will expand new horizons, new perspective, and new dimensions in the field of education which will ultimately help teachers in better serving the society. He trusted that the innovations that will take place in the midst of this crisis will be the medium to convert this choice into opportunity. More opportunities for resources, sources and options for education, teaching and teaching in various forms for teachers and learners will be available. Certainly this will prove to be a milestone for teachers to share their experiences and learn something new while expanding their own knowledge and understanding.
He showed his confident in addressing this pan India and abroad participants with this hope and confidence-filled teacher colleagues that the new India is taking shape in which an important role of the teacher community is emerging.
This Online training programme was inaugurated by Dr Dinesh Sharma, Higher Education Minister and Dy Chief Minister Uttar Pradesh on 20th July 2020.
Vice Chancellor Prof Bhagwati Prakash Sharma claimed proudly that this training of online learning would contribute significantly towards new horizons, new dimensions, new perspectives, and will help in learning approaches to virtual learning, more liberal learning experiences to teachers and students. He further stated that all of us were able to find more sources of cooperation and dialogue in the direction of learning and teaching which would ultimately go for Innovations in the direction of resources, sources and greater opportunities.
Prof B P Sharma showed his indebtedness to the Honourable Speaker, Legislative assembly Uttar Pradesh State of India for his sparing time and addressing the gathering with his devine words as he is known worldwide for his deep understanding of the Vedas, Indian culture and deep understanding of Indian diverse Society.
Professor Shweta Anand, Dean-Academics GBU, appreciated the efforts of organizing team and confirmed that the learning from this FDP will surely transform the teachers and would help in transforming the society for betterment of all. FDP-Director, Dr Vinod K Shanwal, delivered the report on 14 days developments, learning tools, trainers and hard work of participants. Dr Satish K Mittal, Converer-FDP got emotional in delivering vote of thanks as these 14 days association with all was very much involving for the organizing team. Participants from southern India made it clear that they very well understand Hindi and feel proud in communicating in Hindi. Ms Siricia Perenio from Philippines was so impressed from this training programme that she wished to visit India as soon as possible after this CORONA crisis.