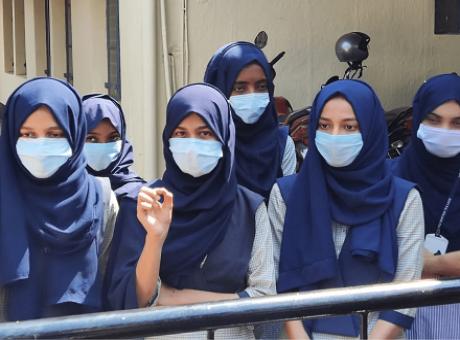 Female scholars from K'tka approach SC seeking permission to wear hijab in exams
Ten News Network

Delhi (India), February 22, 2023: A group of female students from Karnataka have approached the Supreme Court for an urgent hearing on their plea seeking permission to wear hijabs during their pre-university exams.
The exams are scheduled to begin on March 9, and the students fear that they may lose a year if they are not allowed to take the exams while wearing the headscarf.
Advocate Shadan Farast represented the students and sought urgent listing as the exams are due to commence soon. The Chief Justice of India (CJI), DY Chandrachud, assured the student petitioners that he would look into the matter and form a bench.
The Karnataka government had previously banned the wearing of hijabs in government pre-university colleges, leading to several Muslim students moving to private colleges. However, the exams are conducted in government colleges, where there is a restriction on hijabs. Against this backdrop, the petitioners have sought interim relief.
In October 2022, the top court delivered a split verdict on the ban on wearing hijabs in educational institutions in Karnataka, with one judge affirming that the state government is authorized to enforce uniforms in schools, while the other called the hijab a matter of choice that cannot be stifled by the state.
The petitioners had appealed to the Supreme Court against the Karnataka high court judgment, which held in March last year that the wearing of hijab by Muslim women is not mandatory in Islam and that the Karnataka government was well within its power to enforce the uniform mandate.