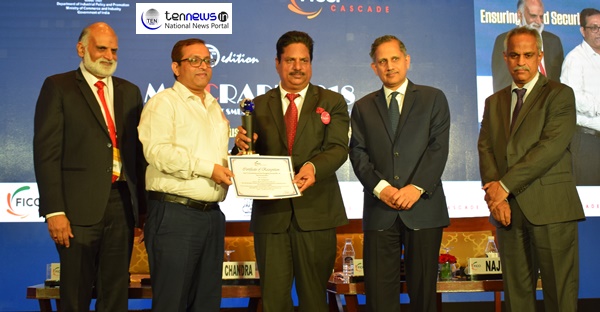 New Delhi: The 5th edition of MASCRADE, a movement against snuggled & counterfeit trade was organised by FICCI in the national capital today.
This Anti-Smuggling Award ceremony was one of the main event happened in today as there were many eminent personalities present on the occasion.

Chairman, FICCI CASCADE Anil Rajput addressed the ceremony and said,
"This is the 5th edition of MASCRADE and we hope our friendly businessmen to work hard and remove illitracy from the nation as it is the main reason why people easily get influenced with others who aims to destroy peace of any nation. Terrorist groups like Lashkar-E-Taiba, Islamic Jihad, Al-Qaida are the main reasons behind every illegal business activities happening around us today."
Chairman of Central Board of Indirect Taxes and Customs S. Ramesh also spoke at the occasion.
S. Ramesh began his career in Mumbai as Assistant Commissioner, Central Excise and thereafter in Mumbai Customs. He has worked in various capacities in different cities across India including Hyderabad, Nagpur, Chennai and Trichy dealing with diverse tasks.
P. P. Chaudhary, Minister of State for Law and Justice and Corporate affairs was supposed to deliver the inaugural speech on the occasion but because of some work related issues, he couldn't appear at the occasion and fulfilling his presence, Suresh Chandra attended the ceremony who is the Secretary of Minister of State for Law & Justice.
In the recent past India's economic growth story has attracted world's attention bringing new challenges for the domestic economy. One of the challenges currently faced is the growing illicit trade in counterfeits, pass offs and smuggled goods.
These activities are also threatening brands not only in every region of the country but across the globe.