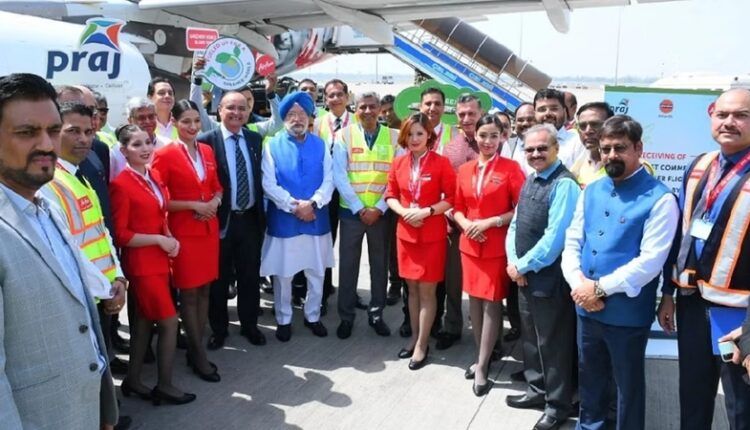 First Flight using Sustainable Aviation Fuel 'Historic', says Minister Hardeep Puri
Ten News Network

New Delhi (India), 20th May 2023: Union Minister Hardeep Singh Puri announced on Friday the successful operation of AIX Connect (previously known as AirAsia India)'s first domestic flight utilising India-produced sustainable aviation fuel (SAF). The i5-767 flight from Pune to Delhi took off and was met at the airport by the petroleum minister.
To lower the aircraft's emissions, the fuel was blended with 1% SAF.
Describing it as a historical moment, the minister said, "Today, I received crew and passengers who took the first commercial passenger flight from Pune to Delhi powered by indigenously produced sustainable aviation fuel (SAF). We have started with 1% blending of SAF in one flight, which will be taken to 1% in all flights by mid-2025."
The minister also Tweeted about the achievement, shared pictures and wrote, "Historic step making aviation fuel from ethanol taking#FarmtoFlight! India takes a positive step towards a green & sustainable future under visionary leadership of PM Sh@narendramodi Ji. Proud to launch India's first domestic commercial flight on indigenous feedstock & SAF!"
The SAF was supplied by Indian Oil Corporation Ltd. (IOCL) in collaboration with Praj Industries Ltd. (Praj) utilising captive agricultural feedstock, marking a watershed moment in the aviation sector's aim at decarbonisation.
Aligning with the Prime Minister's Atmanirbhar Bharat initiative Puri said, "By 2025, if we target to blend 1% SAF blending in Jet fuel, India would require around 14 crore litres of SAF/annum. More ambitiously, if we target for 5% SAF blend, India requires around 70 crore litre of SAF/annum."
Air India CEO also spoke on the occasion and said, "It's a small but important step…toward realising our (and our industry's) goal of net-zero emissions by 2050."
Vistara became the first Indian airline to perform a commercial domestic flight on a wide-body aircraft (Boeing 787-9 Dreamliner) using a blend of 17% SAF and 83% conventional jet fuel on May 4. The plane flew from Delhi to Mumbai.