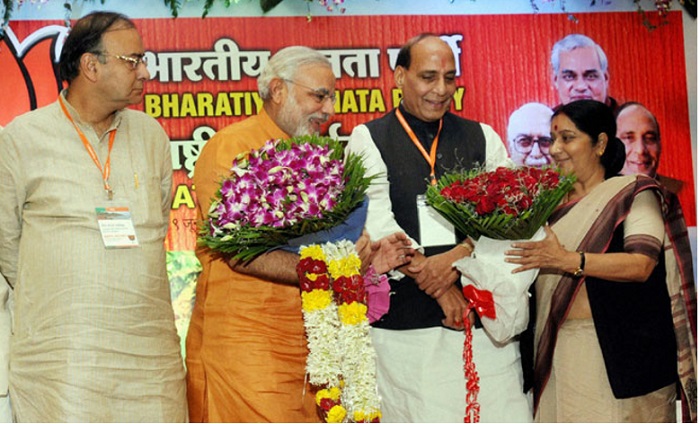 Former Union Minister Arun Jaitley died on August 24, 2019, after a prolonged illness. He was 66. Although his life was cut short too soon by the disease, Arun Jaitley wore multiple hats including lawyer, politician, cricket administrator, and consevationalist. Together with Prime Minister Narendra Modi and BJP President Amit Shah, he laid the foundations for a New India.
He started his journey of becoming politician by winning the presidential election of Delhi University Student Association in 1974 as a member of RSS student wing Akhil Bhartiya Vidhyarthi Parishad. Jaitley rose to fame during Emergency in 1975, when former Prime Minister Indira Gandhi began her crackdown on politicians and activists. He was one of the firsts to be jailed and stayed there for almost 19 months.
He joined BJP in the 1980s and walked on the career path quite progressively. PM V P Singh soon made him Additional Solicitor General of India in 1989. He worked and prepared the legal papers on the Bofors case and presented the case on behalf of the government. He held many portfolios in PM Vajpayee tenure including that of law and justice, shipping, information and broadcasting and commerce. Under the Modi government also, he held many portfolios including finance, defence, corporate affairs and information and broadcasting.
His popularity was at its peak when he was a party spokesperson in 2002. He had set the party's voice on every significant issue. As a leader of Opposition in Rajya Sabha, we saw his oratory skills. He was instrumental in bringing down the government on its knees in matters of corruptions and scandals. He was PM Modi confidante, and he did the groundwork in Delhi for the arrival of Narendra Modi. Over time, an aura has developed around the Modi-Shah duo. But in reality, it was never a duo, to begin with. It has always been a 'trio' with Jaitley as the third arm. It is widely known that Jaitley was the 'go-to' man for Narendra Modi on a wide range of affairs.
Among his many achievements, as a finance minister he had successfully facilitated the controversial decision of demonetization of high-value currency note, which was taken on November 2016. Although he too had his share of failures, in 2014 he lost the only election he ever contested from Amritsar seat. Even Modi wave could not save him from losing the seat to Captain Amarinder Singh.
So the question arises here that who is going to take the place of leaders of such stature, will this have an impact on the BJP?
The following facts are to be taken into consideration before delineating the impact of the deaths of these two great politicians, Arun Jaitley and Sushma Swaraj-
● BJP is a cadre-based party where succession planning is always in place. Consequently, the second and third line of leadership keeps getting groomed to meet any contingency. Shadowing and deputizing are the tools used as drivers for motivation and progression of these two stages.
● When these deceased politicians recused from contesting the then general elections in 2019, the informed individuals could sense that falling health of the duo was the reason. The precautions were taken by Modi and Shah to identify the person who could fill the void created by these illustrious individuals.
● The crisis of leadership appears starkly in case of the Dynasty based political parties such as Congress, SP, BSP, RJD and TMC etc. Such parties are based on an individual's charisma and once that individual is gone, the fortune of the party lands in doldrums!
There's no doubt that when capable individuals die, it creates a vacuum and it pains their teams, organizations and institutions. The death of Sushma & Jaitely falls in this category, including that of Pannikar. Had Sushma not been there, Sonia could have become PM formally also. Had Jaitely not been there, Amit Shah would have been languishing in jail since he was falsely implicated by UPA government. Had Pannikar not been there, the towering personality and great leader Modi possibly would not have been declared as PM nominee of BJP/NDA!
With the above in view, the gulf created by the passing away of these leaders will take much longer time to bridge it, for the exposure and experience of these leaders out of their human capital is an uphill task. Nevertheless, cadre-based parties take a little time to fathom this as the leaders of the second line uphold the continuum besides providing a viable alternative to substitute the requisite delivery.