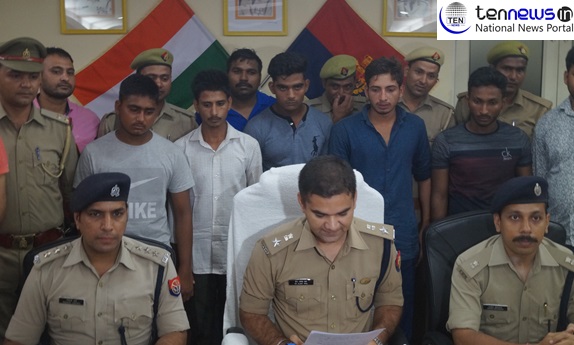 Five arrested for murdering women and her two children, personal rivalry of Son led to gruesome death of family
Ashish Kedia / Saurabh Kumar
Uncovering the gruesome details of shocking triple murder mystery, Greater Noida police today arrested 5 accused in this regard. On 20th July a 39-year-old woman was found dead with a severe head injury, at her home in Omicron 2 sector. The door was locked from outside and her two children were also missing along with family's Maruti Spark vehicle.
Three days later on 23rd July, police also recovered the dead body of the boy, which further complicated the case.
However within 72 hours of the incident, today Police had arrested all the five accused from the car near Nehar Khoti, sector XU 3, Greater Noida.
Detailing about the incident SSP Ajay Pal Sharma said,"During interrogation the main accused of the incident Manish reveled that the Victim Krishan Kant had wrong intentions for her sister and even after telling him to stay away he did not understood. It has also been found that they also had some personal issues.
Before the incident the group of 5 accused traveled to Haridwar where they planned the murders. The prime accused Manish was a student perusing Political Science from a private college in the city but latter dropped it. The victim was known to him through college.
SSP further revealed, "All went to Haridwar where they plotted the murder of Krishna and her mother. On 19th July they returned to Dabra village and as per the plan on the night of 20 they reached the house and stayed over the roof for some times to assure that everybody went to sleep. As they noticed that TV has gotten switched off, they decided to conduct the murders. All of them entered the house and murdered mother and her son. Later they also murdered the girl fearing her to become the eyewitness of the case".
All five have reached to the crime spot over two bikes and they used the family car to dispose the dead body. The body of girl and boy where transported first to the a nearby canal where it was disposed off. However as the daylight has broken by then, they couldn't shift the third body, which was further found at the house.
The accused have been identified as Manish (18), Bittu Kasana (18), both residents of Loni Ghaziabad, Praveen Bhati (18), Ankit Bhati (20) and Tarun Lohiya from Dankur. Police had recovered one gold chain, four gold rings, and 4 ear rings from the group which they had looted after the murder. Apart from this police has also recovered an iron rod and the knife used in the murder.
The girls body hasn't been recovered yet.