Former Finance Minister, Arun Jaitely, Passes Away, Way Too Soon
A benchmark in scholarship, empathy and values
Arun Jaitley (28 December 1952 – 24 August 2019), an Indian politician and an accomplished attorney, also the union Minister of Finance and Corporate Affairs of the Government of India from 2014 to 2019, passed away at an age of 66 a few hours back after a prolonged illness at the AIIMS in New Delhi. A member of the Bharatiya Janata Party (BJP), he previously held the cabinet portfolios of Finance, Defense, Corporate affairs, Commerce and Industry and Law and Justice in the Vajpayee government and Modi Government. From 2009 to 2014, he also served as the Leader of the Opposition in the Rajya Sabha and decided not to join the Modi Cabinet in 2019 due to his illness and health issues. 
Born on 28 December 1952 in Delhi to his lawyer father Maharaj Kishen Jaitley and housewife mother Ratan Prabha Jaitley, he contributed immensely not only to his party but also in nation building process. Arun Jaitley studied at St. Xavier's School in Delhi from 1957–69 and graduated with an honours degree in Commerce, B.Com from Shri Ram College of Commerce, New Delhi in 1973. He passed his LLB degree from the Faculty of Law, University of Delhi in 1977. 
Leadership beyond boundary  
Jaitley became Akhil Bharatiya Vidyarthi Parishad (ABVP) student leader at the Delhi University Campus during 1970s rising to be the President of the Students Union of Delhi University in 1974. During the period of proclamation of internal Emergency (1975–77) , he was under preventive detention for a period of 19 months. Besides being a prominent leader of a movement against corruption launched in the year 1973 by Raj Narain and Jayaprakash Narayan, he was the Convenor of the National Committee for Students and Youth organization appointed by Jai Prakash Narayan. He was also active in civil rights movement and helped found PUCL Bulletin. 
Arun Jaitley had been practising law before the Supreme Court of India and several High Courts in the country since 1987.In January 1990, Delhi High Court designated him as a Senior Advocate and later got appointed Additional Solicitor General (ASG) by the VP Singh  Government in 1989. He was an acerbic, loyal, disciplined and a man of words who remained lyal to his party and values until the end. He also authored several publications on legal and current affairs and  presented a paper on law relating to corruption and crime in India before the Indo-British Legal Forum. He was also a delegate on behalf of the Government of India to the United Nations General Assembly Session in June 1998 where the Declaration on Laws Relating to Drugs and Money Laundering was approved.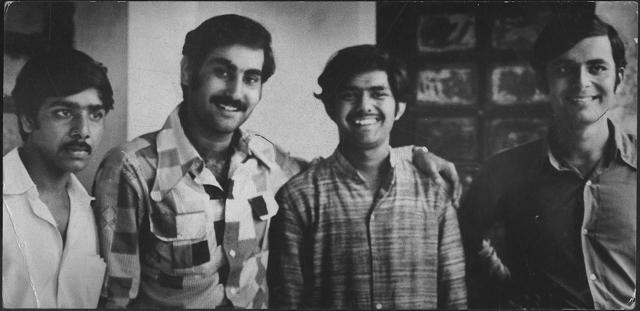 Rising political career 
Jaitley had been a member of the national executive of Bharatiya Janata Party since 1991.He became the spokesperson of the BJP during the period preceding the 1999 general election. In 1999, after the Vajpayee Government of the BJP led National Democratic Alliance came to power, he was appointed Minister of State for Information and Broadcasting (Independent Charge) on 13 October 1999. He was also appointed Minister of State for Disinvestment (Independent Charge), a new ministry created for the first time to give effect to the policy of disinvestments under the World Trade Organization regime. He took over the additional charge of the Ministry of Law, Justice and Company Affairs on 23 July 2000 as the Union Cabinet Minister of Law, Justice and Company Affairs.
He later was elevated to a Cabinet Minister's rank  in November 2000 and was made simultaneously the Minister of Law, Justice and Company Affairs and Shipping. He was the first Minister of Shipping following the bifurcation of the Ministry of Surface Transport and demitted the office of the Minister for Shipping with effect from 1 September 2001 and as Union Minister of Law, Justice and Company Affairs on 1 July 2002 to join as a General Secretary of the BJP and its national spokesman.He worked in this capacity till January 2003. He rejoined the Union Cabinet as the Minister of Commerce & Industry and Law & Justice on 29 January 2003.
In a twist of destiny, Arun originally wanting to be a Chartered Accountant ended up being an accomplished attorney, only to serve the nation with his deep and astute knowledge of law and legal processes and deep commitment to national priorities, well demonstrated through his contributions to policy matters such as GST and demonitisation.  
Mentored by Nanaji Deshmukh and adored by late Vajpayee and LK Advani 
Arun Jaitely was mentored by none other than Jan Sangh Stalwart Nana Ji Deshmukh and was equally liked by late Vajpayee and LK Advani as a rising talent withing the party fold. Nanaji Deshmukh once proposed Arun's name for presidency of Janata Party which was contested by some within the party. After having come to know about the situation, Arun resigned from the post and offered the prerogative to the party. His resoluteness and uprightness in political leadership was second to none. 
He was chosen as the Leader of Opposition in the Rajya Sabha on 3 June 2009 by L.K. Advani later resigning from the post of General Secretary of BJP as per his party's One Man One Post principle. He is also a member of the Central Election Committee of the party. In his capacity as the leader of opposition in Rajya Sabha, he played a vital role during the talks of the Women Reservation Bill in the Rajya Sabha. He successfully introduced the eighty-fourth amendment to the Constitution of India in 2002 freezing parliamentary seats until 2026 and the ninety-first amendment to the Constitution of India in 2004 penalising defections. However, being in the party since 1980 he never contested any direct election until 2014. He was a Rajya Sabha member from Gujarat, and was re-elected to Rajya Sabha from Uttar Pradesh in March 2018.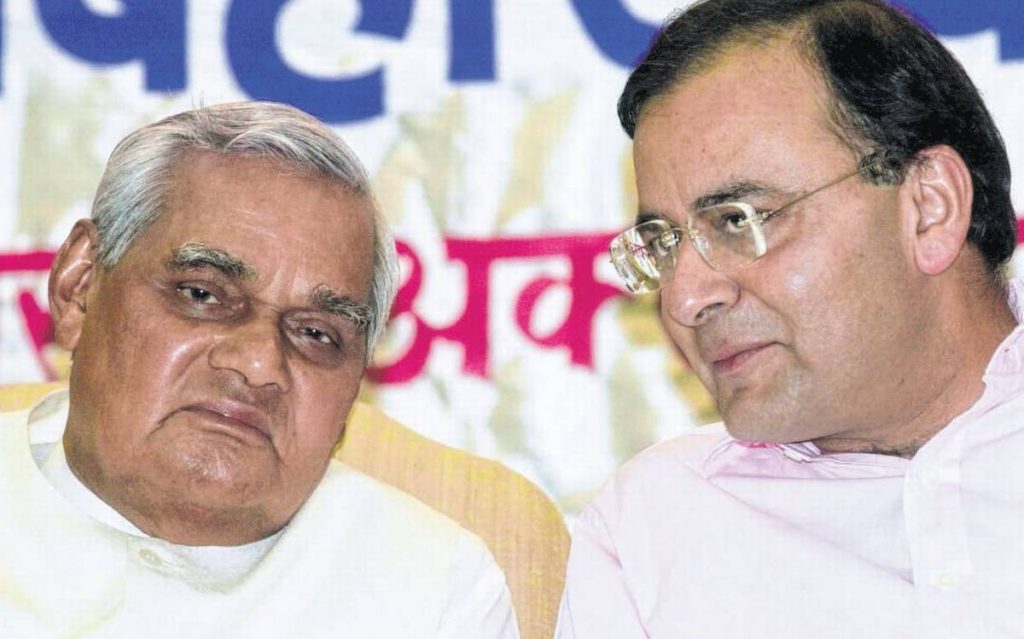 A consensus builder, he set new political rules 
On August 26, 2012, he said (outside Parliament) "There are occasions when an obstruction in Parliament brings greater benefits to the country." This statement is considered to have given legitimacy to obstruction of parliament in the contemporary politics in India. After forming government in 2014, BJP government has also faced disruptions and obstructions in parliament multiple numbers of times and opposition keeps on referring to his aforesaid statement. While his contribution to parliamentary discussion is exemplary but his support of obstruction as a legitimate floor strategy undoes his positive contribution to the Indian Parliamentary Democracy.
On the issue of GST bill passage, he went and reached out personally to all key leaders of respective political parties, sharing with them advantages and upside to the issue, convinced them in building consensus that finally led to the passing of the bill on the GST, hailed as one of the substantive economic measures achieved through political consensus in bringing India 'under one nation, one tax' regime. A mater orator, Arun also presided over the launch of demonetisation bill in effort to put corruption and black money to an end.His contribution to GST and demonetisation will remain, among others, as lasting legacy to setting benchmarks in political leadership through public policy and deployment of evidence-based legal processes.     
Personal values mattered most to him  
Arun Jaitley was honest to core, loyal to values both personal and political, astute in details and put people and their interest above his own personal during a long political career straddling from student politics to national one, rising to substantive positions within the government. An affable person who was humane, strategist and focused on credibility and took personal care of people who were part of his staff and those who knew. When the VP Singh government came to power, he offered Arun Jaitley a ministerial berth in his government which was supported by his party from outside, Arun refused to accept the ministerial berth leaving the decision to his party. After which the VP Singh government almost insisted on Arun to accept the position of Additional Solicitor General, which he accepted to take up, getting involved in doing the paperwork leading to investigations in Bofors deal. 
In another case demonstrating his personal values and virtues, Arun took along with himself daughter of one of his staff in his car to the same school where his daughter was studying for her admission.When the principal of the school mentioned that the girl who Arun was presenting for her admission into the school was relatively poor in her English language, he assured the principal of the school that he would personally ensure that the girl comes up in her language proficiency. The girl upon his personal intervention was admitted to the same school where Arun's daughter was studying. The girl did well and later went for higher studies now working a one of the leading MNC's in Singapore. 
Leaving behind a shining legacy 
In a stellar case of his magnanimity towards people and their well being, he set up with his own personal finances philanthrophic entities deployed for helping his and his father;s personal staff who he always treated them as a part of the family. Having friends, well wishers and admirers from completely different areas and professional strands, many of such people did not only come to meet and see him during his illness but there were several places where people organized rituals for his speedy recovery and well being. It was emotional to see political leaders cutting across party lines coming and paying their visit to the hospital amply demonstrated acceptance of Arun within rank and file. Such was Arun who always stood taller as a person than anyone else in his powerful position.  
Arun Jaitely was an accomplished attorney, a political leader, a humane with deep commitment to personal values and loyalty for party. He  stuck to these virtues in a most disciplined manner until the end. In a classical metaphorical way, he could relate to rank and file in equal measure in conversations with deep legal, political and economic knowledge. Being an attorney, he continued to refresh his knowledge on various matters and issues even until the end. A vociferous reader, he had deep interest in cuisine and could talk for hours on various items of the food with interest and keenness. A person who put values above everything else leaves behind a deep void not only for his party but also for his political detractors.
He leaves behind a legacy that can be a true tribute that political leadership across party lines may like to pay by following and emulating that in an endeavor to keep political differences separate from personal rivalries. Arun also adequately demonstrates in his passing away nature's law of keeping 'balance of choice' in order.
Arun Jaitley is survived by his wife Sangeeta, and two of his lawyer son and daughter, Rohan and Sonali.