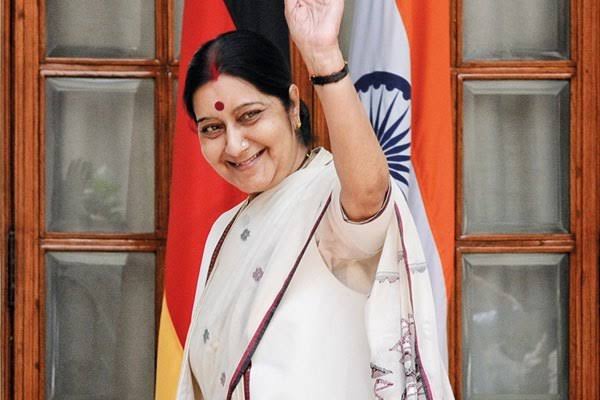 Born on February 14, 1953, at Ambala Cantt, Haryana, Sushma Swaraj was an Indian politician and a former Supreme Court lawyer. A senior leader of Bharatiya Janata Party, Swaraj served as the Minister of External Affairs of India from 26 May 2014 to 30 May 2019; the second woman to hold the office, after Indira Gandhi.
She passed away at an age of 67 some time back following a cardiac arrest at AIIMS in New Delhi , ending an illustrious political career as one of India's iconic public figures and some one who commanded respect from rank and file for her virtues of humility, empathy and helpfulness.
Condoling her death, as a national tragedy, PM Narendra Modi tweeted, "Sushma Ji's demise is a personal loss. She will be remembered fondly for everything that she's done for India. My thoughts are with her family, supporters and admirers in this very unfortunate hour".
She was a public figure par excellence that reflected in her being elected seven times as a Member of Parliament and three times as a member of Legislative Assembly. At the age of 25 in 1977, she also became the youngest cabinet minister of Indian state of Haryana besides also having served as 5th Chief Minister of Delhi from 13 October 1998 to 3 December 1998.
In April 1990, she was elected as a member of the Rajya Sabha and remained there until she was elected to the 11th Lok Sabha from South Delhi constituency in 1996. She was also a Union Cabinet Minister for Information and Broadcasting during the government of PM Atal Bihari Vajpayee in 1996. Her role as a leader of opposition during 15th Lok Sabha will always be remembered with fondness and emotive memories.
Sushma Swaraj's father, Hardev Sharma was a prominent Rashtriya Swayamsevak Sangh member with her parents hailing from Dharampura area of Lahore, Pakistan. She was educated at Sanatan Dharma College in Ambala Cantonment and earned a bachelor's degree with majors in Sanskrit and Political Science. She also studied law at Punjab University, Chandigarh and was known for her oratory in several languages, prominent among them being, Hindi, Kannada and Sanskrit besides English as a business language. It is said that a state-level competition held by the Language Department of Haryana saw her winning the best Hindi Speaker award for three consecutive years. The art of oration won her special attributes both in India and internationally- including her power packed speeches at the United Nations Headquarters in New York.
I personally was witness to a few of those speeches that she delivered, with absolute clarity and without mincing words. Among her diplomatic virtues, she trusted her instincts and abilities in dealing with world leaders at equal footing and with distinction. A senior UN Representative once asked me about her persona while praising for her diplomatic astuteness and a personal touch in everything that she did. She indeed immediately touched a chord within few minutes with anyone she engaged with.
Starting her practice as an advocate in the Supreme Court of India in 1973, Swaraj began her political career with Akhil Bharatiya Vidyarthi Parishad in the 1970s. After the Emergency, she joined the Bharatiya Janata Party and later she became a national leader of the BJP.
She is survived by her husband, Swaraj Kaushal, a senior advocate of Supreme Court of India and a criminal lawyer who also served as Governor of Mizoram from 1990 to 1993 besides having been a member of parliament from 1998 to 2004 and her daughter, Bansuri, who is a graduate from Oxford University and a Barrister at Law from Inner Temple.
Sushma Swaraj, who during her recently concluded tenure as India's external affairs minister, duly earned the epithet of being a motherly figure to more than 30 million Indians and Indian diaspora- firm and tall- in providing every possible support needed in hour of their need and crisis, suddenly leaves for heavenly abode, leaving many to remember her as a kind, caring and affable individual for a long time to time. In her, India loses a tall public figure, an outstanding parliamentarian and an iconic orator who could steal the show by the dint of her wisdom and presence of mind.
A people's person, she also perhaps characterises, in her untimely death, the famous saying – those who God loves more deeply leave the world sooner.