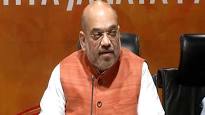 New Delhi: BJP President Amit Shah blown his own trumpet on Saturday after completing four successive years in the center.
The Prime Minister Narendra Modi-led NDA government has completed its four year in the office and to mark that the day BJP leaders holding programmes to aware the people about the government's achievement.
In this row, BJP national president Amit Shah addressed media at party office and counted the achievements of the BJP-led NDA government.
While addressing media, he said that BJP has given a politically stable, corruption-free, pro-poor, pro-farmers government. "In 2014, PM Modi emerged as only hope which the save this country from drowning."
In 2014, when Narendra Modi selected for the post of Prime Minister by the party, he sworn to uplift poors, farmers and reclaim the glory and hegemony of India in the world. "After four years, when we look back, PM Modi has fulfilled his promise and still working to do more," Shah said.
Referring to the government achievements he said, that Jan Dhan Yogna, Ujjwala Yogna, Ujjwal Yogna, Make in India, electrification of every house of the country are some major achievements of the governments. "NDA-government tirelessly working to make this country great and our PM is still working 14 to 15 hours to make this dream true."