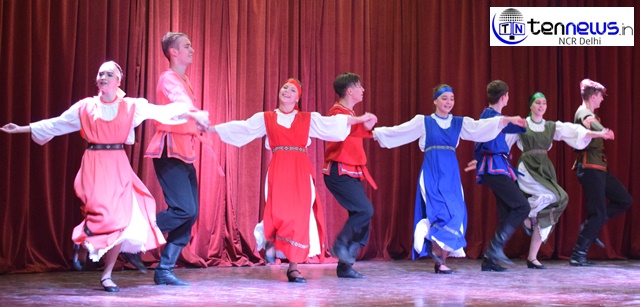 From Russia with Love: Dance ensemble "Kalinka" makes the Rosatom Festival an event to remember
Vishal Malhotra/Photojournalist Rahul Kumar Jha
New Delhi: The renowned Russian dance ensemble "Kalinka" performed at the Russian Centre for Science and Culture yesterday as the part of the ongoing Rosatom festival of science and culture an event Organised by Russia's Rosatam state atomic energy corporation in Nehru centre ,Mumbai and Russian centre in Mumbai and New Delhi from October 24 to 29th.
There was a time when the tunes of Raj Kapoor's Bollywood melody "Sir par lal topi rusi, phir bhi dil hai Hindustani" reverberated on the streets of Russia. Times have changed, but Indo-Russia bilateral ties have stood the test of the time even as the paradigm of friendship has changed. A testimony to this is that an artistic community still finds its inspiration from Bollywood movies.
People are India's biggest asset. They are highly sensitive when it comes to their taste in art, especially music and dance.
Rosatom Festival of Science and Culture was held in Mumbai and New Delhi. The program of the event included scientific and educational activities focused on nuclear science and technologies.
The legendary children's folk-dance group Kalinka named after A. Filippov was founded in 1968 in Moscow by one of the most famous children's choreographers in the USSR – Alexander Filippov. More than 20,000 children were trained in Kalinka in its 50 years of existence.