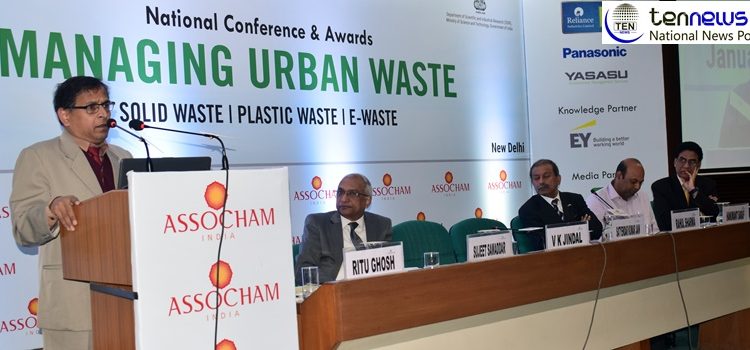 Funds for viable solutions to waste management will be provided by Delhi govt : Satyendar Jain
Vishal Malhotra (Photo/Video) By Lokesh Goswami Ten News Delhi :
New Delhi (10/01/2019) : The Delhi Government is looking for simple, viable, decentralised and concrete solutions and is willing to provide funds to counter the city's waste management problem, Satyendar Jain, Minister of Industries and Urban Development said at an ASSOCHAM event held in New Delhi today.

"Managing waste is not a difficult task as several technologies are available for the same that do not cost much but even if there is need for funds, then Delhi Government will provide the same," said Satyendar Jain while addressing delegates at an ASSOCHAM National Conference on 'Managing Urban Waste.'
He added that while there are companies that are willing to provide end-to-end solution for waste management, the municipal corporations do not let them take action in this regard.
"For corporations transporting trash is a business worth Rs 1,000 crore, so they do not let it to be managed locally," said Satyendar Jain.
He also said that 40 per cent of waste being generated in Delhi is organic in nature, which is not even required to be carried to the dumping site. While of the remaining, half of it is sand and stones which is mixed with trash because corporations get paid for waste as per weight, and the rest is a mix of plastic, polythene, metal and other things which is all saleable.
He lamented that no one was willing to speak against municipal corporations in Delhi. "I feel we need to strictly deal with the issue of waste management without coming up with half-hearted solutions."
He added, "We need to holistically look at the politics being done over trash, we need to simplify things instead of making them complex."
The Minister also said that while many committees were constituted by various authorities but none of them are willing to accept that the there is a solution for managing the waste.
Satyendar Jain further said that while many landfill sites have come up in various parts of Delhi of late, but these landfill sites are the biggest contributor of pollution in Delhi where the waste is burnt down.
In her address at the ASSOCHAM conference, Ritu Ghosh, Head Corporate affairs and CSR Panasonic India said "We at Panasonic India are committed towards creating an environmentally responsible ecosystem that ensures a safe collection and disposition of e-waste. To ensure the effectiveness of efforts made by each of the stakeholders in the value chain, it will predominantly need significant change in mindset, where consumers are an important part of the value chain. The awareness created going forward will enable the creation of a more sustainable ecosystem, for the collection and management of 'end of life products'. Further, we'd like to thank ASSOCHAM for recognizing our efforts within the segment and the intricate changes we are looking at bringing upon within the industry through our practices."
Others speakers included – V.K. Jindal, joint secretary & mission director, Swachh Bharat Mission, Union Ministry of Housing and Urban Affairs; Mr Hanuman Saraf, head recycling, Ramky Enviro Engineers Ltd. and Mr Sujeet Samaddar, senior consultant, Industry, NITI Aayog.