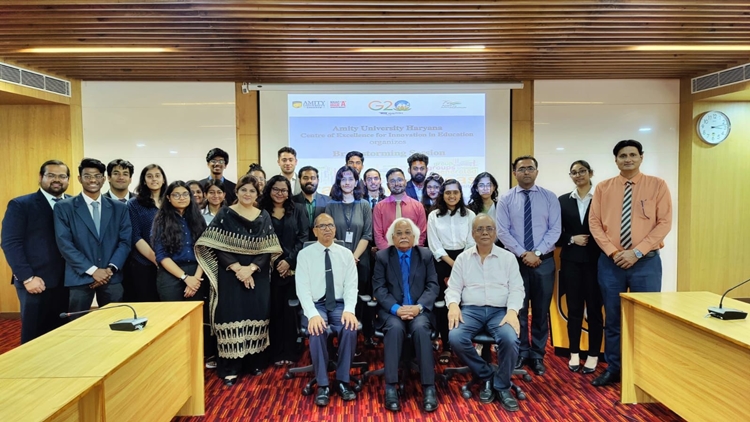 Haryana (15/03/2023): The New Age of Digital Transformation has ushered a new era of knowledge explosion and innovation infinite, connecting the vast humanity to work together for a common cause of creating a happy, healthy, prosperous and a blissful world. India's G-20 Presidency is a great opportunity for people of India, especially the young India, to make profound contributions to creating a new world order in line with India's age-old Vedic Sanatana philosophy of Vasudhaiv Kutumbakam, said Vice Chancellor Prof PB Sharma, at the inauguration of a brainstorming session organized by the Centre of Excellence for Innovation in Education at Amity University Haryana.
Reminding the young minds presents at the brainstorming session of the remarks of India's Prime Minister Narendra Modi at the closing session of the  G-20 Summit in November 2022, "India is taking charge of the G-20 at a time when the world is simultaneously grappling with geopolitical tensions, economic slowdown, rising food and energy prices, and the long-term ill-effects of the pandemic. At such a time, the world is looking at the G-20 with hope. Today, I want to assure that India's G-20 presidency will be inclusive, ambitious, decisive, and action-oriented. Over the next one year, we will strive to ensure that the G-20 acts as a global prime mover to envision new ideas and accelerate collective action."  India's G-20 Presidency shall usher a new era of 'Lifestyle for Environment' and ensure that the benefits of development are universal and all-inclusive. It was also emphasised that Without peace and security, our future generations will not be able to take advantage of economic growth or technological innovation.  All these priorities are fully embodied in the theme of India's G-20 Chairmanship – "One Earth, One Family, One Future".
Students from various disciplines  participated in the brainstorming session  and expressed their  thoughts on the topic "The Most Remarkable Change of our Era, Digital Transformation: Benefits & Challenges". The young minds from Amity Business School talked about Green Growth and Sustainability in Business as the major priorities as of today to foster green growth and assure higher levels of sustainability and utilize the digital transformation to create a level playing field with advantage tilting towards innovativeness and creativity for which the Indian young minds are recognized the world over. This way we can accelerate growth with sustainability and create green employment in plenty.
This was followed by next group of students from Amity School of Engineering and Technology who stated the effects of Covid-19 pandemic and how it became a catalyst for digital transformation along with bringing environmental benefits in the same time frame. They also listed all ecological detriments that came along such as the one time use Plastics and essentials such as gloves and masks which contributed to a lot of plastic waste and lead to land pollution. The group was of the view that G20 Presidency is a great opportunity to inspire the Science and Technology professionals in India and around the world to develop technology innovations and scientific solutions to protect the humanity as well as Mother Nature together.
Next group of students from Amity School of Earth & Environmental Sciences and Amity Medical school expressed their view point on the geopolitical factors affecting digital transformation. Various issues such as cross border trade restrictions, data privacy, cyber security and information integrity were discussed along with digital health care and wellbeing. The need for a "Healthcare System resilience" to create a Country-Wide resilience towards such pandemics was also emphasised.
The brainstorming session was further contributed by the bright young minds from Amity School of Psychology and Behavioural sciences who reflected on psychological aspects of technological advancements. They expressed the need of upgrading criminal psychology to include digital criminals and to have a tool to aid in psychological profiling of them so that negotiations for cybercrimes and cyber scams can be facilitated. Students further talked about behavioural economics and its role in the era of digital transformation. They emphasized on making digital sustainability a priority through behavioural economics.
Students of Amity College of Commerce shared their views on the role of digital entrepreneurship and commerce. They listed various modern-day Commodities that we use on a day-to-day basis and the way the digital businesses are influencing the consumption patterns of people in the society.
The Nodal Officer of G20 University Connect at AUH, Dr Sanjna Vij in her opening remarks said "Brainstorming sessions is a powerful tool for students to generate new ideas and solutions". By collaborating with others and sharing diverse perspectives, students expand their thinking and explore creative possibilities and align their thought process to solving the current and future problems.
The deliberations of the Brainstorming Session were judged by experts Prof UN Singh, Dean, Faculty of Arts & Humanities, Maj Gen (Dr) SC Jain, HOD, Dept. of Electronics and Electrical Engineering and Dr Shiv Swaroop Jha, HoD Amity College of Commerce.