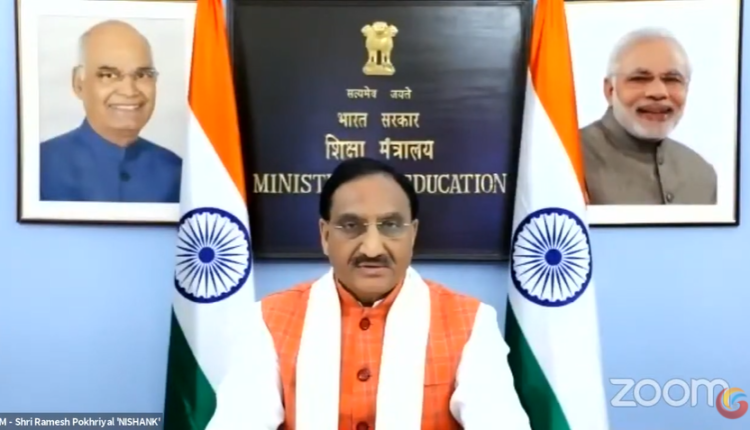 Galgotias University opens National Seminar on NEP, Education Minister lauds its commitment towards full implementation of NEP
Greater Noida, 17th February: Galgotias University, an educational institute aiming to become the first institute in the country to fully implement NEP 2020, organized a 2-day National Seminar to deliberate on the transformational changes in Indian education system that the National Education Policy 2020 promises. 
Despite being a private university, the Galgotias University managed to get all the stalwarts of Indian education industry on one single platform, including the leader himself – Union Education Minister Ramesh Pokhriyal, which is a display of the urgency with which the university is pursuing the implementation of the policy. 
While addressing the seminar, the Education Minister appreciated the fact that the University is committed to become India's first Institute to implement NEP 2020. He also noted and praised Galgotias University for promoting research work which has resulted in around 100 patents registrations so far from Galgotias University.
The Education Minister claimed that the NEP has created a positive environment for the research scholars and therefore they must consider focusing on research and creating innovative products and gaining patents for the same rather than gaining higher job packages during the campus placement.
On implementation of NEP in schools, Pokhriyal assured that task forces in each state are monitoring the implementation of NEP in schools and the government is keeping a close watch on them.
The Education Minister also highlighted the credits system for the University students as part of which the students will have the access to 'Academic Bank of Credit' which will allow the students to move across different streams through interdisciplinary streams.
In his address, Dr. D P Singh, Chairman, University Grants Commission, said that he wants the NEP to reach every house and play a major role in social transformation, industrialization and world development.
Dr. Singh also thanked Galgotias for showing their commitment towards the NEP by presenting a road map of 12 policies to achieve the target. Further, he quoted former President Dr. APJ Abdul Kalam and insisted on achieving excellence.
In his address, Dr. K. K. Aggarwal, Chairman, National Board of Accreditations said that the NEP is based on four verticals and accreditation is the most important out of the four. "For me, there is no value of higher education without accreditation."
In his address, Dr. Anil Sahasrabudhe, Chairman, All India Council for Technical Education (AICTE) talked about the work done by the AICTE for training the faculty members and updating them about the new trend and technologies in the market. He insisted on skilling and re-skilling of the faculties and claimed that the AICTE has trained approx. 1.25 lakh faculties through 900 webinars sessions, during the Covid period.
Further, Dr. Sahasrabudhe said that Indians have contributed a lot to global education but did not receive enough credits for the same. "With NEP, the time has come to achieve the place that we deserve."
Lauding NEP's move to teaching in mother tongue, AICTE Chairman said that we are making engineering books available in 8 different languages so that it becomes available for students in their mother tongue which will be more comfortable for them.
Earlier in the seminar, Galgotias University Chancellor Suneel Galgotia praised NEP, saying "This education policy is a combination of thoughts of three great men this land has witnessed – Swami Vivekananda, Mahatma Gandhi and Ravindra Nath Tagore."
He further said, "We as an institution are committed to our words for making this university 100 percent NEP compliant. We will be taking a small step for fulfilling the vision of our Prime Minister and Education Minister of making India Vishwa Guru. We will be bringing back the glory of Takshashila and Nalanda."
Suneel Galgotia also requested the Education minister to appoint a nodal officer from the education ministry for guidance in effective implementation of the NEP at the Galgotias university.
In his address, Galgotias University CEO Dhruv Galgotia said that the university has resolved to implement the new education policy as soon as possible.
He shared the 12 steps that the University is going to take in the first phase of NEP implementation. This includes distance education and online course system, holistic and multidisciplinary education under the new education policy, world-class dissemination of Indian education, establishment of Galgotias Students Office for international students, emphasis on adult education, etc.
He announced the establishment of "Atal Bihari Vajpayee Center for Art and Culture" to pay special attention to arts and culture in accordance with the new education policy.
In her opening address, Galgotias University VC Dr. Preeti Bajaj talked about University's focus on outcome-based education "The University is the first-ever university to follow OBE in true sense across all disciplines and all schools since its inception and is ahead of implementing many clauses of NEP 2020 like Credit transfer system, Multidisciplinary approach, interdisciplinary approach, CBCS, relative grading and University Core Courses like AI, Data Science, Innovation, Creativity and Entrepreneurship, Disruptive Technologies, Creative arts, Liberal arts, and Professional Ethics and Human Values."
"To mark the 10th anniversary of the University in 2021, the Galgotias University will be hosting 10 major events," Dr. Bajaj informed.