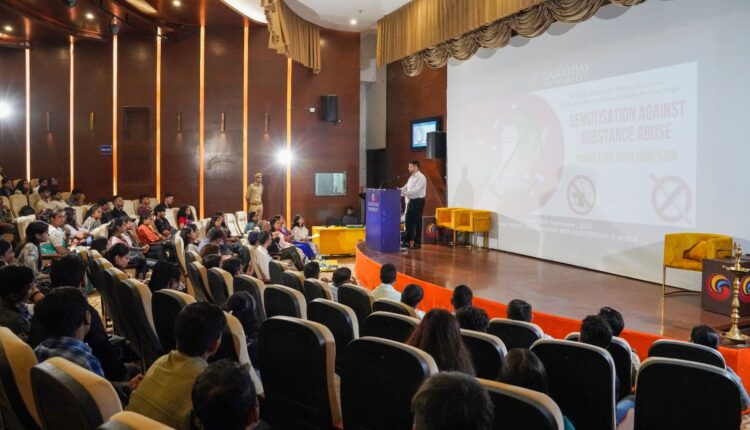 Galgotias University organizes "Drug Eradication Programme"
TEN NEWS NETWORK

On 29th September 2023, under the guidance of District Magistrate of Gautam Buddha Nagar District, Manish Kumar Verma (IAS) and under the auspices of Narco Coordination Centre, "De-addiction Program" was organized for the youth of the country at Galgotias University. The main objective of this program is to save the young generation of the country, especially the students, from the bad habits of drugs and any kind of drug habit because this not only puts a person's own life in danger but also destroys his entire family. Therefore, the youth should stay away from the deadly habit of drugs.
Administrative Officer ADM Information Shri Nitin Madan, who came as the chief guest, cautioned the youth and said that you are the future of the country. You always have to stay away from bad habits like drugs and build a bright future for India. This is your biggest responsibility.
ACP Crime Amit Kumar, Anti Narcotic Task Force Officer, Incharge of Tobacco Control Cell Dr. Shweta Khurana, Excise Officer Ashish ji, Drugs Control Inspector Vaibhav ji, all these officers also instructed the students to stay away from any kind of drug and said that you are young, you have energy, if you use that energy in building your life then life will be successful and if you become addicted to any kind of drug then no one can save your life from being destroyed. You have to protect your life yourself.
Vice Chancellor of Galgotias University, Dr. K. Mallikarjuna Babu welcomed all the visiting officers by presenting them bouquets and expressed his gratitude to all of them and said that we express our gratitude to you from the heart that today you are sparing your precious time to serve the country and reached our Galgotias University for the welfare of our students to alert the young generation. We and our students promise you that we will always stay away from drugs.
University Chancellor Sunil Galgotia said that it is very important to free the young generation of the country from drugs by any means. Otherwise the future of our country will go completely into darkness.
University CEO Dr Dhruv Galgotia said that consuming tobacco and cigarettes causes terrible diseases like mouth and lung cancer. The meaning of life lies in staying away from drugs.
University Director Aradhana Galgotia said that the government is making efforts in many ways to make the country drug free. The efforts made by the government are commendable, but every countryman should spread awareness about drug de-addiction within himself and the people around him. It is very important to help under the government's drug de-addiction campaign. Together we can one day make the country a drug-free country.
The program was organized by the team of Dr. A. Ram Pandey, Dean of Mass Communication and the stage was conducted by Dr. Tasha Singh Parihar. Dr. Shweta Khurana, in-charge of the tobacco cell of district Gautam Buddha Nagar, made everyone take a pledge to stay away from drugs throughout their life. International students were also involved in this program, hence the oath taking ceremony was conducted in English language.