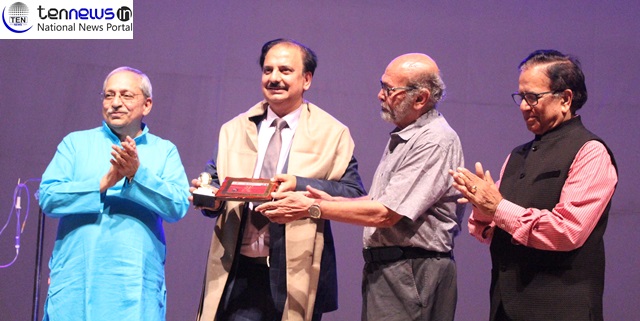 Gandhi@Godse stage play enthralls audience at BIMTECH Greater Noida
Saurabh Kumar
Yesterday a play named Gandhi@godse.com depicting a fictional dialogue between Mahatma Gandhi and his murderer Nathuram Godse was staged at BIMTECH Greater Noida. The occasion for this drama was the ongoing week long celebrations and cultural activity in BIMTECH as part of its 31st foundation celebrations.
The chief guest for the event was India Expo Mart Limited Rakesh Kumar who was welcomed with a bouquet and the program began with the lamp lighting ceremony. 
During the program Director of BIMTECH Harivansh Chaturvedi along with Asgar Mazar the writer of the Drama also remained present. The drama Gandhi@godse.com was staged by the Asmita theatre group under the direction of Arvind Gaur the renowned Indian theater director.
The drama began with the scene in which Gandhi ji is under treatment in a hospital after he has been shot by Godse. The play narrates the ideological difference of both Gandhi and Godse. Play also shows how after independence Gandhi ji wanted to dissolve Indian National Congress as his idea was that country has chosen them for leading independence struggle not to rule the country after Independence. In play it was also depicted that how Gandhi ji was very keen to sanitation as he started himself cleaning the toilets while he was in jail.
The direction by Arvind Gaur and the work of Llght and sound was incorporated so well with the play that it made the play more authentic and realistic. Everybody got stuck to their seats and only opened their hands for claps after every scene. 
Speking at the event Rakesh Kumar said that "BIMTECH was the very first neighbor of us when I had setup India Expo Mart here in 2006. You will be surprised that a lot of planning of this city was executed here in BIMTCH and lot of such research papers were submitted by BIMTECH." 
Further he said that today "Gandhi is the biggest brand in the world as well as the ambassador for connecting people all around the world."