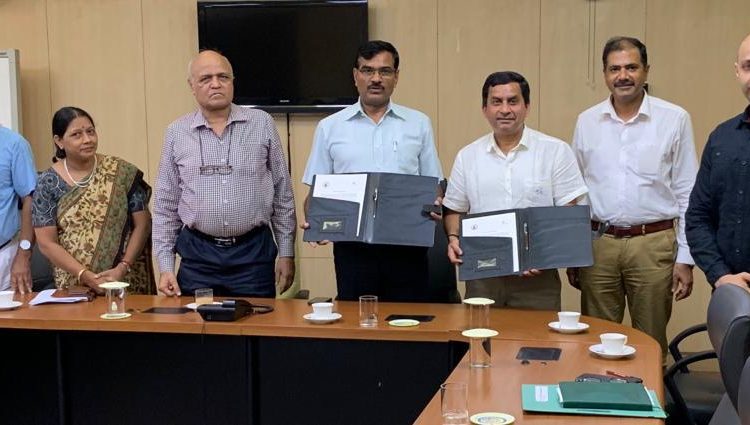 Gautam Buddha University, Greater Noida signs MoU with Ambuja Neotia Group
Saurabh Kumar
Gautam Buddha University signed a MoU with the Ambuja Neotia Group. The MoU is with the Ambuja Group's Incubator / Accelerator, which is primarily based out of Kolkata, India. Professor, Bhagwati Prakash Sharma, the Vice Chancellor of Gautam Buddha University and Sanjay Sarda, President and Director of the Ambuja Neotia Group Pvt. Ltd jointly signed this agreement which shall initially last for the next three years.
The aim is to provide bootstrapping and formation facilities to the students of Gautam Buddha University, who are interested in starting their own company right from the college days. Such kind of expertise would greatly benefit the students as the MoU entails many features like a basic seed funding of Rs. 25 Lakhs which will be provided by the Ambuja Group and an office and campus space absolutely free of cost will be available for the students to work from. Apart from this full time mentors with enormous industry experience will be available 24×7 for these students.
A major feature of the MoU is that the Ambuja Group would want to become the first customer of the startup it would incubate from Gautam Buddha University. This is a great help for a new company with zero experience as it gets a trial run at a major company and also gets to learn faster.
When asked about more details Sanjay Sarda said "We look forward to helping GBU students willing to start their own firms, apart from the initial 25 Lakh seed funding we would also provide offerings from angel investors and external funding, as a company would eventually grow and require more and more investment and support". He continued "GBU and us together aim at creating world's biggest incubator/accelerator network by the end of 2020, where we will be at the helm of not only the Start-up India Campaign but also a global accelerator giant".
Bachchu Singh, Registrar Gautam Buddha University who was also present at the MoU Signing ceremony said "GBU expanding at exponential rates, from academics to placements, and this is another example of our commitment toward getting the best opportunities for the students of GBU, hence we look forward toward creating an energetic environment of creativity and development in the area of entrepreneurship. And has motivated us all to work extensively in this area, the results of which you will be hearing very often for many years and more now".