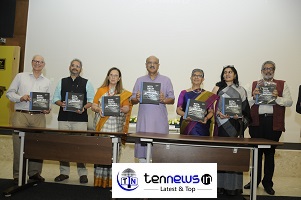 #Godrej & Boyce pays tribute to Naval Pirojsha Godrej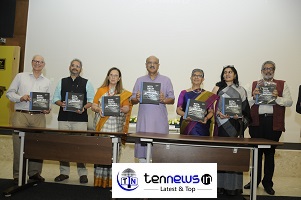 Godrej & Boyce pays tribute to Naval Pirojsha Godrej
Launches a coffee table book on typewriters on Naval Pirojsha Godrej's birth centenary
Mumbai, December 1st, 2016: Godrej & Boyce, the holding company of Godrej Group, today launched a coffee table book on typewriters in India. The book is dedicated to Naval Pirojsha Godrej, under whose leadership Godrej became the first Indian company to manufacture an all-Indian typewriter. The book is launched on the occasion of his birth centenary (3rd December 1916 – 2016).
This book captures the socio-cultural history of an intriguing period — the 1950s to the end of the last century—from the perspective of the typewriter and its users. Eminent writers, historians and social commentators were invited to share their perspectives and experiences which have enriched the book immensely. Personal memories and factual accounts have made it evocative, eliciting nostalgia at times.
The information presented was collected by traveling extensively across India and documenting the stories of typists, dealers, typing classes and repair shops – the entire eco-system that developed around the typewriter. These stories are told with the assistance of vivid photography by Chirodeep Chaudhuri and spread lavishly across the book. At the launch, Jamshyd Godrej thanked his wife, Dr. Pheroza J Godrej and the editor, Sidharth Bhatia and for spearheading this project and immortalizing the typewriters that his father was so close to.
In the year 2009, the last manual typewriter rolled out of a Godrej factory and with that, an entire era finally came to an end – the era of typing pools in offices and their rhythmic clackety-clack, carbon paper and their smudges, triplicate copies, ever-missing typewriter ribbons and so on. In a way, the typewriter was the machine that brought 'automation' to office spaces – the sound being comforting as it indicated that work being done. Typewriters valiantly held their own turf in spite of the challenges wrought by the digital age ushered with the introduction of computers.
In their nearly 150 years of existence, typewriters became not only an integral part of our social and economic life but also a powerful tool that enhanced productivity and democratised the printed word. The manufacture of the all-Indian typewriter in 1955 is certainly one of the greatest achievements of post-independence India.
About Godrej & Boyce:
Godrej & Boyce, the holding company of the Godrej group operates across 14 diverse businesses, began its journey in 1897. The company started with the manufacturing of high quality locks and diversified into several businesses under Consumer Goods, Office and Industrial Products & Services, Infrastructure & Real estate etc. Headquartered in Mumbai, Godrej & Boyce specializes and is a market leader in Appliances, Furniture & Interiors, Security Solutions, Locking Solutions, AV solutions, Vending, Material Handling, Industrial Logistics, Aerospace, Nuclear Power, Defense, Toolings solutions for Auto industry, Process Equipment, Power Infrastructure, Real Estate, Green Building Consulting. Godrej is one of India's most trusted brands serving over 1.1bn customers worldwide, every day.
For further information, please contact:
Neha Sharma – 9920902414; sharma.neha@adfactorspr.com
Jasmeet Gurudatta – 7798350777; jasmeet.gurudatta@adfactorspr.com