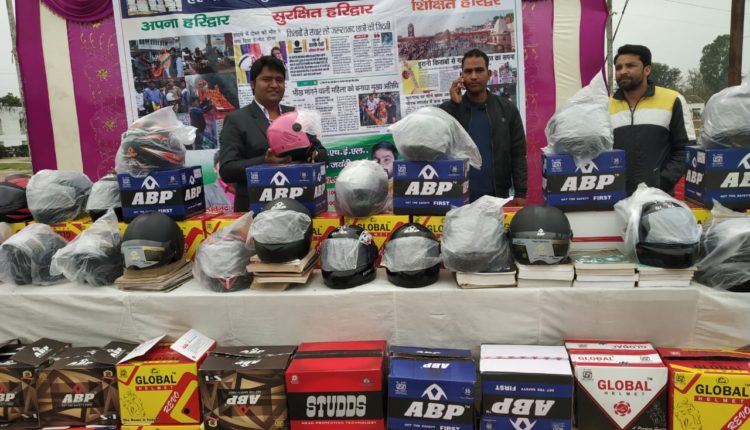 Helmet man Raghvendra Kumar to distribute free helmet for Kanwariyas at Mohan Nagar Ghaziabad
Saurabh Kumar
Greater Noida: Bihar-born Raghvendra Kumar, 32, a law graduate from Greater Noida's Lloyd Law College has earned the title of Helmet man in the region as he spread awareness among people by distributing helmets to the motorcyclists.
On July 28 again as a part of his awareness drive, he will be distributing free helmets to bike ridden Kanwariyas at Mohan Nagar, Ghaziabad around 4 PM. Raghvendra said "Last year I had conducted the similar drive, In the month of saavan huge number of Kanwariyas heading towards Haridwar were without helmets. So, to make them aware I have conducted this drive."
While on the other side the district administration of Gautam Budh Nagar has exempted Kanwariyas crossing the district from the 'no helmet no fuel' rule. On Thursday, the district administration directed all fuel stations to not apply the rule on the devotees who will be crossing the district between July 24 and July 28. So in such situation, the importance of such drives increases a lot.
Raghvendra conducting such drives since 2014, on asking a question what makes him to start such initiate, he narrated "My friend KK Thakur from Madhubani in Bihar died on the spot in a road accident in Delhi because he was not wearing a helmet. His family was in shock as he was the only child. This moved me so deeply that I let go of my aspiration to practise law and instead provide legal support to the needy and the victims of injustice. I have started distributing free helmets to the motorcyclists who were without helmets on the roads of Noida to Bihar," Kumar said
For now, Kumar had distributed 22 thousand helmets and 1 lakh 70 thousand books to needy people and currently working under 9 states. He has set up 74 book-boxes in nine states, one is at Pari Chowk, Two in Patna alone. Now he is saving money to set up new book boxes with helmets at 50 new public places in Delhi and Greater Noida.