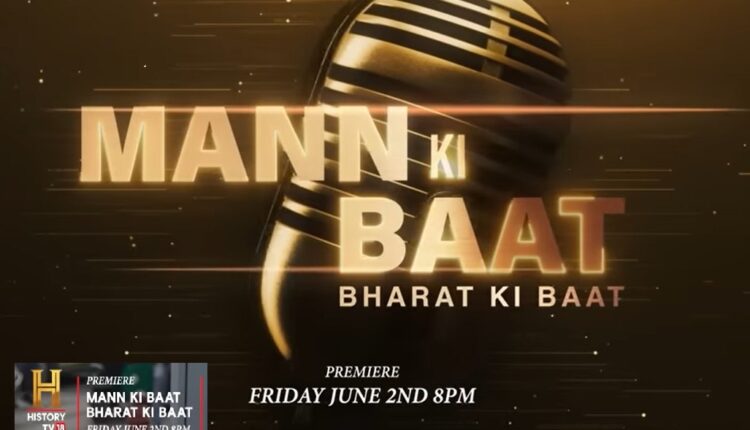 History TV18's new documentary 'Mann Ki Baat-Bharat Ki Baat'

 History TV18 is set to launch its new documentary, 'Mann Ki Baat-Bharat Ki Baat'. The film explores how Prime Minister Narendra Modi's popular radio programme, 'Mann Ki Baat' has become a platform for a two-way conversation with the country's citizens, and how it has inspired positive change in every corner of India. The radio show recently achieved a milestone of one hundred episodes.
Narrated by renowned lyricist and television personality Manoj Muntashir, the documentary features interviews with prominent figures from various fields, including educator, author and philanthropist Sudha Murty, former Indian cricket captain Virender Sehwag, senior journalist Smita Prakash, CBFC chairperson Prasoon Joshi and spiritual leaders Sadhguru and Sri Sri Ravi Shankar, among others. The film also showcases citizens and stories that have inspired the Prime Minister.
'Mann Ki Baat', a monthly radio programme, first aired in 2014, and has grown to become a platform where the Prime Minister addresses the concerns and suggestions from the people of India. The programme also celebrates the efforts of ordinary individuals who make their communities better, cleaner and safer. Over 100 episodes, the radio programme has addressed a wide range of issues like women's empowerment, education, sustainable farming, and environmental conservation, to name a few. During the pandemic, 'Mann Ki Baat' stood tall, disseminating authentic information and helping save lives.
'Mann Ki Baat-Bharat Ki Baat' is a History TV18 original, produced by Colosceum Media. The show premieres on History TV18 on Friday, 2nd June, 2023 at 8pm.