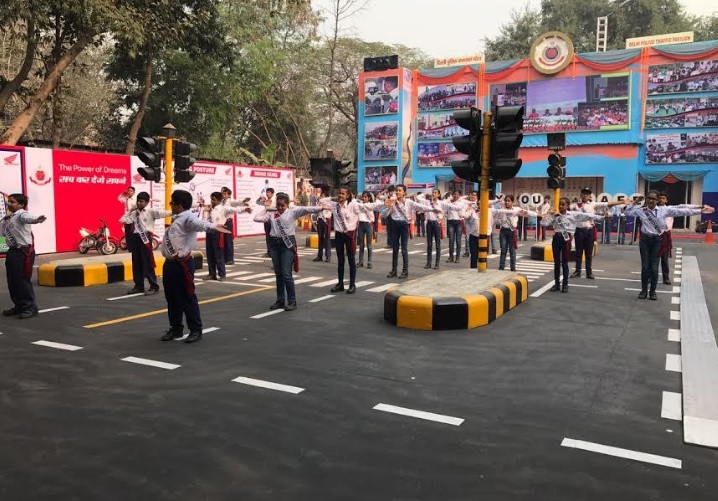 Honda joins hands with Delhi Traffic Police to promote road safety at IITF-2016. @dtptraffic
By Bipin Sharma
With the key objective of promoting and spreading awareness about road safety and safe riding habits, Honda Motorcycle and Scooter India Pvt. Ltd. (HMSI) inaugurated 'Road Safety Programme' in sync with Delhi Traffic Police at the 36th India International Trade Fair (IITF). The road safety drive that began on 15th November at Pragati Maidan, New Delhi will continue till the last day of the IITF i.e. 27th November'2106. The intensive road safety programme and safety riding activities have been launched to further emphasize Honda's commitment towards society in spreading road safety education among the citizens at the Delhi Traffic Police Pavilion, Pragati Maidan. The highlight of the initiative was the conducting of the special safety drive by Honda 2Wheelers at the IITF. Various Safety riding activities are being conducted for visitors across all age groups at the Traffic Police pavilion.
Children in the age group of 5-6 years are getting educated on road safety measures through primary activities like role plays and interactive road safety digital games. To make it truly an unforgettable experience for kids, a special drawing competition is being organized where the participants stand a good chance to win exciting prizes. Family photo booths and a special 'Digital Selfie Zone' have been installed at the pavilion.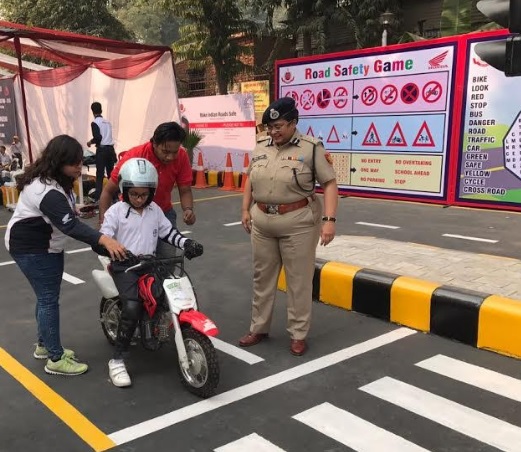 The presence of Honda CRF 50 training motorcycles at the pavilion helped young minds (9-12 years) comprehend the pertinence of safety riding in a protected and controlled environment. Honda has plans in the offing to conduct various road safety games for adult visitors. The presence of Honda's certified skilled safety instructors have played a pivotal role in imparting knowledge on road safety to score of visitors. Riding trainer (also present at all Honda Exclusive Authorized Dealerships) have helped riders above 16 years age to experience and understand more than 100 possible perils on the road. Children's Day was celebrated by Honda with a 'Safe Cycling' School Programme. To promote safe riding amongst the Indian youth and to commemorate 'Children's Day', Honda also conducted a week long 'Safe Cycling' activity from 7th to 14th November'2016 with the prime objective of educating students about myriad facets of road safety and for spreading awareness through an interactive environment. It is remarkable that at all the Honda's 10 Traffic Training Parks, over 45 schools, totaling more than 10,000 students participated in the 'Safe Cycling' road safety drive.
Speaking on this occasion, Y.S. Guleria, Senior Vice President – Sales and Marketing, Honda Motorcycle and Scooter India Pvt. Ltd., said "As a responsible corporate, we are committed towards promoting road safety awareness amongst citizens of the country. Honda has been associated with Delhi Traffic Police and India International Trade Fair since 2007. Our association with Delhi Traffic Police and IITF has given us a huge platform to connect with people for inculcating road safety measures alongside promoting good riding habits amongst them."
As far as Honda's Road Safety commitment goes, road safety has been a global priority for them since 1970. In our 15 years operations in India, we have educated more than 8 lakh people of all age groups on the vital nuances of safe riding. Honda has trained more than 3 lakh people at its 10 traffic training parks pan India. These include: Hyderabad, Chandigarh, Jaipur, Bhubaneswar, Cuttack, Yeola (Nashik), Indore, two parks in Delhi and Ludhiana.
The road safety initiative of Honda indubitably adds another feather in its cap especially as road accidents have caused countless fatalities in the country since time immemorial!!