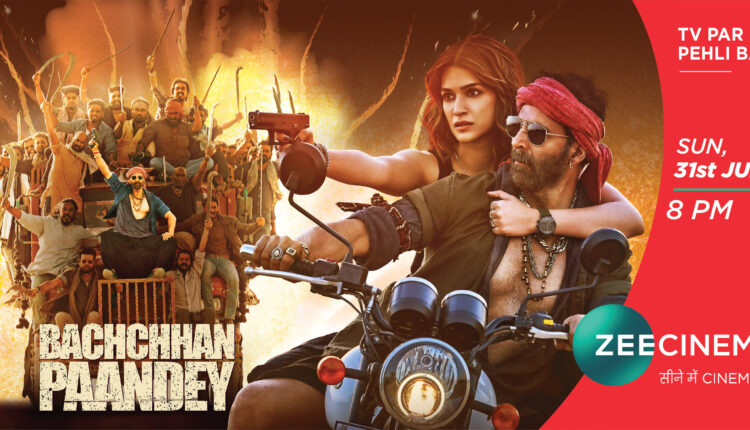 "I have understood three things in my life – Kaam, Kamaayi aur Karm" says Akshay Kumar
From hard-core action, romance, comedy, thriller, drama to even horror, Akshay Kumar can do it all. And now once again, with the World Television Premiere of Bachchhan Paandey, he is back with impeccable swag, his unmatchable suave and a star power which no one else can match! Taking us through his journey to don this avatar, Akshay Kumar opens up about his process, co-stars and more. Catch the World Television Premiere of Bachchhan Paandey on Zee Cinema on 31st July at 8 pm.
Your look in the film was spine-chilling, what was the process like?
I have played a few gray characters in the past and have realized that every person has a negative element in them and all you need to do is get that out when you play one on screen. The only difficult part was wearing the huge lens for my stone eye. My look, overall, was very different from anything I have played before and getting into the final look was an engaging process.
How was working with Kriti Sanon and Arshad Warsi?
It's not always easy to understand the character and get into the skin of the character. But Kriti does it with ease. She is very focussed when it comes to her character, which is very important. As for Arshad, he is an expert, he is so at ease on-set and that rubs off on you. The entire team was in Jaisalmer, shooting together. When you're spending that much time together, you learn, unlearn, relearn – just like family.
What about Bachchan Pandey stood out for you?
This is a commercial masala film and I am doing a film like this after a while. That was the most exciting for me. Also I was playing a gray character after a long time and I was enjoying it. For me, it was also about the character – who is menacing at first but as the story unfolds, slowly and surely you will start to fall in love with him.
You're one of the busiest actors in the industry, tell us about your success mantra?
People tell me why do you do so many films in a year?But I have understood three things in my life – Kaam, Kamaayi aur Karm. I work very hard, as much as I can so I can earn as much. I don't say no to any work that comes my way — kaisa bhi role ho, koi bhi function ho, kisi bhi cheez ki ad karni ho. Kyunki kaam se aati hai kamaayi, aur uss se main koshish karta hoon achhe karm karne ki. So you earn as much as you work and you give back to society that much more and  I don't think there is anything wrong with that.