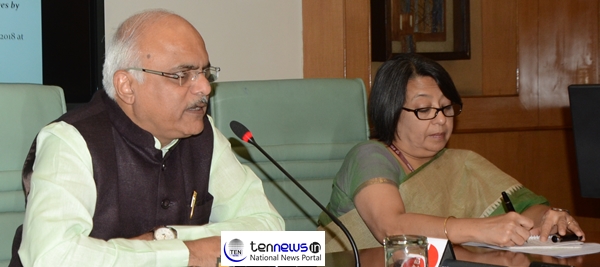 New Delhi: "Indian Council of Cultural "Relations (ICCR) has decided to institute Pt. Deendayal Upadhyay Memorial International Oration, a public lecture to be held annually. Subject of this oration will deal with role of India's Soft Power in building cultural Relations. Celebrating the World Culture Day, this lecture will take place every year on May 21." Dr. Vinay Sahasrabuddhe, President of the lCCR informed the media persons at a press conference today.
The inaugural Pt. Deendayal Upadhyay Memorial International Oration will be held on Monday, May 21 at 06.00 pm at the Pravasi Bharatiya Kendra in Chanakyapuri. The first oration will be delivered by the External Affairs Minister, Sushma Swaraj.
Addressing the Media, Dr. Vinay Sahasrabuddhe, President of the Indian Council for Cultural Relations (ICCR), Said, "India enjoys popular goodwill world over. It is felt, this needs to be further consolidated by adopting a more focused approach for spreading the understanding about Indian culture, Indian civilization and the people of India. In order to achieve this and propagate innovations taking place in the academic, art and cultural sphere in India, ICCR has undertaken several new initiatives. Instituting Pandit Deendayal Upadhyay Memorial International Oration is one among them."
"ICCR has been working on introducing new ways for enhancing global goodwill of India. It is also working towards making the cultural understanding more broad based and inclusive. Classical Indian Dance, Music or Yoga have always figured prominently on ICCR'S mandate for promotion of cultural relationship with other countries. However, the idea of creating an enlightened understanding of Indian culture and civilization, globally cannot be confined to only few aspects of Indian culture. ICCR plans to cover a wide range of aspects of Indian Culture from food to fabric, handicrafts to folk-art and diversity of traditions to emerging varieties of tourism," added Dr. Sahasrabuddhe.