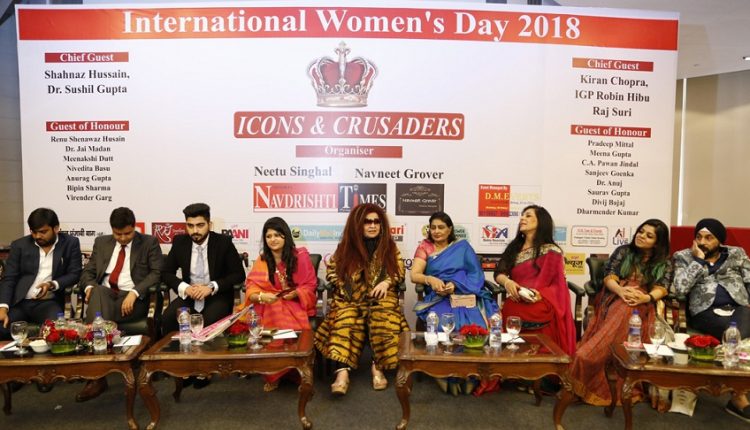 "Icons & Crusaders" honoured at a grand Women's Day event in the capital.
By Bipin Sharma
Navdrishti Times hosted an exclusive Women's Day event at Hotel Le- Meridien on 7th March'2018. The highlight of the event was the felicitation of various achievers and crusaders from different fields, launching of "NDT Icons & Crusaders" Magazine, followed by an animated panel discussion on the "Role of Women Empowerment in Nation Building".
Women's Day celebrated every year on 8th March plays a pivotal role in spreading awareness towards various issues concerning women, in addition to bringing to fore the myriad accomplishments of women achievers. In the true spirit of the festivity, the awards were conferred not only to women achievers, but to men achievers as well.
Neetu Singhal (Chief Editor, Navdrishti Times) and Navneet Grover (Fashion Show Director) played the perfect hosts of the event as they personally received the guests at the entry. The Chief Guests Shahnaz Husain, MP Dr Sushil Gupta and Kiran Chopra (Chairperson, Punjab Kesari Group) got a rousing welcome when they entered the event venue.
Addressing the audience, Consulting Editor Bipin Sharma expressed optimism about Dr Sushil Gupta playing a more crucial role towards the cause of the common man in his new innings as the MP in the Rajya Sabha. A role much bigger than what he had been playing all these years as a social activist and philanthropist. Bipin also enlightened everyone present on how "Global Pioneer of Ayurveda" Shahnaz Husain had done the entire country proud by becoming a "Subject" at the Harvard Business School, besides dedicating a lifetime towards spreading the wide spread benefits of "organic beauty care".
The distinguished Guest of Honour's were Renu Hussain, Nivedita Basu, Entrepreneur Saurav Gupta, Pradeep Mittal, Social activist Meena Gupta, Virender Garg, Anuradha Khanna, Sanjeev Goenka, Dr Jai Madaan, Dr Anjumaan Nayyar (Life Coach), Anurag Gupta (Country Head-Max Bupa), Divij Bajaj (Educationist & Entrepreneur), Parul Mahajan, Raj Suri and Dharmender Kumar. The esteemed guests were duly honoured during the course of the event.
The program began with a Panel Discussion on the "Role of Women Empowerment in Nation Building". The stimulating panel discussion was moderated by the city based famous Energy Coach Chhaya Raaj Mittal, and the panelists included stalwarts like Dr Anuj (Renowned Microsurgeon & Author of Bestseller "That Erotic Silence"), Sanjay Singhal (eminent Financial Consultant & Planner), Meenakshi Dutt (Celebrity Makeup artist), Ansshhu Ghakhar, Bharti Goel (Life Coach), Ekta Chimnani (Life Re-Programmer), C.A Pawan Jindal and Sapna Khemani (Naadi Astrologer).
After a brief tea break, ace Brand Strategizer, singer and actor Dimple Ghosh took over the stage. An extremely versatile person, Dimple has indeed come a long way from the popular TV serial "Tara" days in which she played an important role. She spoke on the challenges facing women in the society, and engaged the esteemed guests in a captivating discussion.
The key sponsors of the event were Meena Gupta, Shammi Aggarwal (Pansari Group), Roopshree Choraria (Roopshree Jewels), Shahnaz Husain (Gift Hampers), Bharti Goel (Precious stones), Anuradha Khanna (Oriflame products), Dr Amit Kaur Puri (Plantation Pots for AKP Healing), Ramanjeet Alang (Gifted Painting), DM Events (Event Partners) and CA Pawan Jindal (Presented Trophies).
Everyone from Kiran Chopra, Neetu Singhal to Dr Anjumaan Nayyar, Chhaya Raaj Mittal, Bharti Goel spoke on women empowerment, and the need to make the world a better and safe place for women. It was elaborately discussed how women empowerment and gender equality will play a significant role in Nation Building.
After the Panel discussion, Achievers from different fields were felicitated with the "Icons & Crusaders" Awards. Notable among those felicitated were Dr Anuj, Bipin Sharma, Poonam Saini, Sushil & Sunita Vakil, Rajni Panwar, Saji Chacko (Sunday Guardian) to name a few.
The most awaited moment of the event came after the Awards presentation event when the inaugural issue of the revamped "NDT Icons and Crusaders" Magazine was unveiled by the Chief Guest Shahnaz Husain. The March issue has the dynamic, young entrepreneur Saurav Gupta on its Cover Page. For someone who loves conquering new frontiers, Saurav has set up a big business empire in a short time span, and thus inspired countless people especially youngsters to emulate him likewise by following his secret mantra of hard work, passion and total commitment.
The other highlights of the event were an enthralling mind game, Question- Answer session, a Lucky Draw, followed by dance and music.
Neetu Singhal proposed a Vote of Thanks and expressed gratitude to all the guests who took time from their hectic schedule to be part of the glorious event.