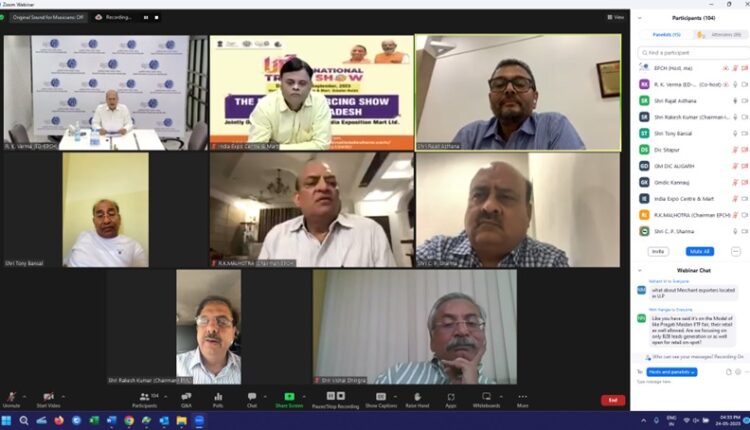 IEML, EPCH jointly organize webinar for exporters of UP for Participation in UP International Trade Show
TEN NEWS NETWORK

Greater Noida, May 24, 2023: Today, India Exposition Centre and Mart (IEML) along with Export Promotion Council for Handicrafts (EPCH) jointly hosted a webinar for exporters from Uttar Pradesh to discuss participation in the upcoming UP International Trade Show (UPITS) to be held from September 21-25, 2023, at the India Expo Centre & Mart, Greater Noida.
The UPITS is a mega UP trade exhibition that will be co-organized by the government of Uttar Pradesh and the India Exposition Centre and Mart (IEML) as the state's largest sourcing event. EPCH will be one of the supporting organizations for this major event. R. K. Verma, Executive Director – EPCH, during his opening remark welcomed Raj Kumar Malhotra, Chairman – EPCH; Vishal Dhingra, President, Sourcing Consultants Association (BAA); Senior representatives of exporters associations and eminent exporters Rajat Asthana from Agra; Tony Bansal from Firozabad; C. P. Sharma from Gautam Budh Nagar; Sudeep Sarkar, CEO-IEML; Joint Commissioners, Assistant Commissioners and other senior officials from the Districts of U.P and H.Q.
Dr. Rakesh Kumar, Chairman, IEML, shared his thoughts on the UP International Trade Show's goals and vision. Following the enormous success of the UP Investors Summit, there was a need to put together a show that will promote Uttar Pradesh's unique products and services. As a result, UPITS was planned as a comprehensive trade expo. He further added that UPITS would be held annually to highlight the distinctive products of Uttar Pradesh and would serve as a top sourcing platform for the state's potential. UPITS will welcome attendees, including consumers, overseas buyers, buying and sourcing consultants.
He further said that the trade expo would feature a variety of business sectors, including MSME, Tourism and Hospitality, Health, Textiles, Agro and Food Processing, Start-Ups, GI tags from Uttar Pradesh, Toy Associations and Craft Clusters of Uttar Pradesh, Handloom and Textiles, Micro and Small Enterprise Cluster Development, ODOP, and many others.
Raj Kumar Malhotra, Chairman – EPCH informed that UPITS is one of its kind trade shows which will host variety of products hailing from different parts of Uttar Pradesh. This show will promote Govt. of UP vision towards One District One Product.
Veena, Assistant Commissioner of EPB, Govt. of Uttar Pradesh, briefed about the schemes of Export Promotion Bureau (EPB) and ODOP regarding stall charges, local transports and other support being extended by the department to participants of UPITS 2023.
Abhishek Shukla, Project Head, IEML explained in detail the operational fabric of UPITS 2023. He shared that it will be an exclusive B2B and B2C expo, bringing the entire product line of UP under one roof of UPITS.
The senior representatives of exporter association from Agra, Firozabad, Gautam Budh Nagar, Noida shared their experience and provided guidance to the participants. In the end all the questions were answered by the officials.