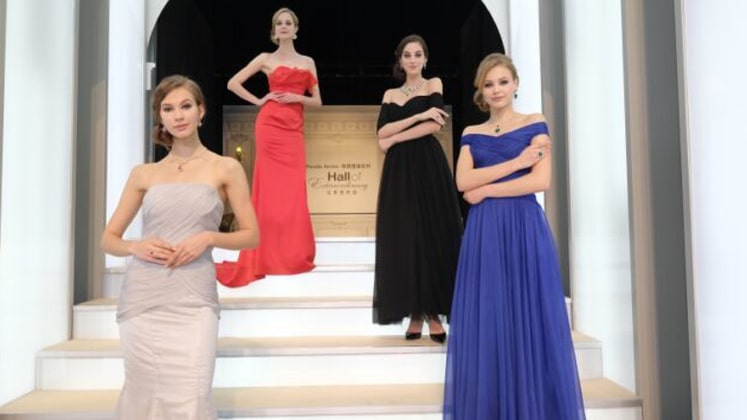 IFJAS, a trade show for head-to-toe fashion sourcing, set to open on 20th June at India Expo Mart
New Delhi – 17th June 2022 – The 16th edition of the Indian Fashion Jewellery & Accessories Show – IFJAS 2022 will open to overseas buyers, buying and sourcing professionals as well as domestic volume retail buyers on 20th June, 2022 at India Expo Centre & Mart, Greater Noida. This is a thoughtfully conceptualised sector exclusive show by Export Promotion Council for Handicrafts – the organisers of the famed IHGF Delhi Fair. This edition is composed of comprehensive product lines in fashion jewellery and accessories, design and trend forecast theme pavilions, regional treasures, daily ramp sequences, live craft demonstrations among other collateral activities.
150+ exhibitors from PAN India make this three days trade appointment a unique opportunity for buyers to explore a well spread product range with fashion jewellery; semi-precious jewellery; belts & wallets; hand bags & purses; fashion accessories; head & hair accessories; stoles & scarves; shawls; embroidered, beaded & sequined accessories; fancy footwear; and artisanal apparel. And now there are protective wear too, making their own style statements. Components too feature among sought after products at IFJAS as several importing communities from various markets prefer sourcing components for their jewellery products especially from India.
Raj Kumar Malhotra, Chairman, EPCH, said, "Besides display by leading manufacturers from across India, participation from artisans from across various states will also be among attractions for the visiting overseas buying community." He further added, "Established as a premium trading platform for sourcing fashion jewellery & accessories from India's key as well as diverse suppliers, IFJAS stands prominent among sourcing shows."
Dr Rakesh Kumar, Director General, EPCH informed, "In order to give wide publicity, the Council has undertaken extensive promotion and publicity campaign all across the globe through digital advertisements in International magazines, their digital publications, online portals, web banners etc. Further, Indian Embassies extended invitation to buyers and importers in their respective countries. The fair has been widely covered in digital publications and social media. Among pre-registered buyers we note most of our patrons as well as several first time buyers."
This is a one of a kind buying opportunity for chain / departmental stores, wholesalers, importers, distributors, retailers, designers, merchandisers, forecasters and buying houses to source from India. Over its preceding editions, IFJAS has been drawing quality buyers dealing exclusively in fashion jewellery and accessories from various importing nations. This edition of the fair is likely to be visited by buyers from around 50 countries including Algeria, Argentina, Australia, Azerbaijan, Belgium, Brazil, Bulgaria, Bulgarie, Canada, Chile, Colombia, Egypt, Estonia, France, Germany, Ghana, Greece, Hungary, Iceland, Israel, Italy, Japan, Jordan, Kenya, Kuwait, Kyrgyzstan, Lebanon, Mexico, Netherlands, Palestine, Romania, Russia, Saudi Arabia, South Africa, Spain, Sweden, Syria, Tajikistan, Turkey, United Arab Emirates, United Kingdom and United States of America.
Sandeep Chhabra, President, IFJAS'2022 speaking on the occasion informed that due to wide publicity campaign undertaken by EPCH for IFJAS'22, response from the overseas buyers for the 16th IFJAS'22 is very encouraging and expected a good number of overseas buyers of fashion and imitation jewellery products. The participants have developed a new range of fashion, imitation jewellery and accessories and are ready to showcase it to the visiting buyers.
The India International Garment Fair – IIGF will be co-located and held concurrently. This is an apparel exclusive show by Apparel Export Promotion Council and the display compliments the product profile at IFJAS, giving the visiting buyers an opportunity for a crossover sourcing. Since garments and fashion accessories – and on many occasions fashion jewellery too, are displayed alongside, allowing consumers to complete 'the look', the concurrence will be advantageous for buyers and exhibitors of both the shows as they can explore new market linkages for growth and expansion.
EPCH is a nodal agency for promoting exports of handicrafts from the Country to various destinations of the world and projecting India's image abroad as a reliable supplier of high quality handicrafts goods & services. The Handicrafts exports during the year 2021-22 was Rs. 33253.00 Crores (US $ 4459.76 Million) registering a growth of 29.49% in rupee term & 28.90% in dollar terms over previous year. However, exports of handicrafts during 1st two months of current financial year i.e. April-May'2022-23 is Rs. 4712.55 Crores and USD 620.92 Million registering a growth of 3.12% in rupee term & 0.41% in dollar term over the same period of previous year. The exports of Indian Fashion Jewellery & Accessories during the year 2021-22 was Rs 1908.517 Crores (US $ 255.97 Million) registering a growth of 24.20% over previous year informed by Mr. Rakesh Kumar, Director General – EPCH