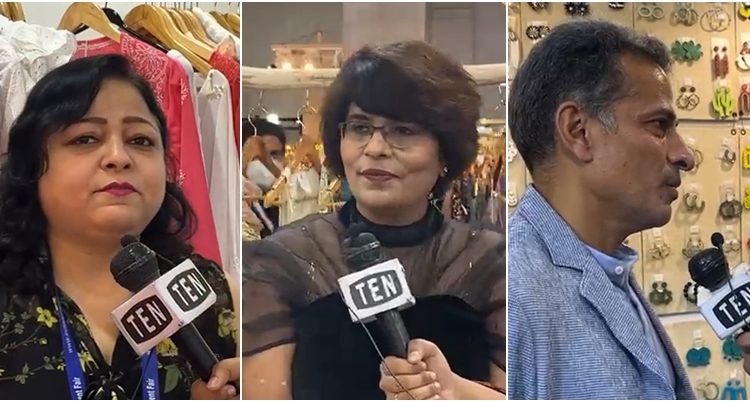 IFJAS brings smiles back on exporters faces amid surge in demand for fashion, jewellery
Ten News Network
Greater Noida, 22nd June: The Export Promotion Council of Handicrafts (EPCH) is back with the 16th edition of India Fashion, Jewellery and Accessories Show which is being held at the India Expo Centre and Mart, Greater Noida from 20th June to 22nd June.
Speaking to Ten News on the last day of the fair, exhibitors claimed they were extremely satisfied with the organizing team and the response they received at the fair.
Mr. Saurav Malhotra and Ms. Anita Malhotra from WGS International said that they were extremely satisfied with the response of the fair. They have been participating in the fair twice a year for the past 10 years. They said that they were happy with the show and the response they got. WGS International has been selling its products to European countries, the USA, and South America and keeping up with the demands of high-end products. "I will give 9 marks out of 10 to the organizers of the fair," said Ms. Anita Malhotra
Mr. Prashant Sadh from Kamal Overseas also rated the fair a 9 out of 10 and stated that while there are still some points for improvement, the fair went really well this year.
Participants of the EPCH fair for the past 20 years, Avni Design's Ms. Daksha Sejpal claimed to be very happy to participate in the fair and get new buyers through it. She said that even buyers were satisfied with the products. Ms. Sejpal rated the fair a 10 out of 10, 'We are coming here for so many years, and every year we are happy and satisfied with the buyers and the EPCH,' she said.
"EPCH has been organizing wonderful shows, the footfall of the show is excellent and there have been buyers from all over – US, Latin America, Australia, all over Europe – France, Italy, Spain, even the smaller countries," stated Mr. Sagar Mehta from QTL Creations, a company exporting handcrafted jewelry. They have been participating in the EPCH shows for several years now. Mr. Mehta asserted that as EPCH has taken the initiative of organizing product-specific shows, they are receiving good buyers who travel from their country to India intending to buy the products. "This show has been very good for the accessories people and will be very helpful in taking the handicrafts to other heights. EPCH should keep on doing such great shows, we wish them all the best," he said and rated EPCH and the show a 10.
Mr. Dilip Agarwal and Mr. Rahul Agarwal from Matheshwari textiles also rate the show a 10 out of 10 saying that they were quite satisfied with the response and they received a lot of contractors and buyers from the exhibition.
Ahuja Accessories' Hitesh Ahuja honestly expressed that they had come to the show with low expectations because of the time of the year and the fact that people are just reviving from Covid. "But the fair has been way beyond expectations," Mr. Ahuja said and rated the show a 12 out of 10.
Mr. Tribhuvan Agarwal from Silver Mountain, a silver jewelry exporting company from Jaipur, Rajasthan, said that the show was clean, well-occupied, and nicely organized. While he did find a lack of footfall at the fair, he rated it a 9.5 and claimed to be happy to get good leads and responses at the exhibition.
"It's been a busy show," said Mr. Nikhil Thukral from Maharana of India, a company with a specialized line and factory focusing on georgette and chiffon articles which include beach kaftans, dresses, cover-ups, etc. "Buyers have been very excited to come here, be here, and they have written down some good things, so business is happening," Mr. Thukral said. He said that they did face some shortage of buyers due to the problems created by Covid, but because of such good fairs, they are sure to get more buyers than even before. He rated the show a 9 saying that there is always room for improvement. "It's been a good show, buyers are there, people are working, we have been busy, and we have got very good response from our collection," he said.
Ms. Geetanjali Kapoor from MLK since 1965, the social entrepreneur from MLK Exports claimed to be immensely thankful to be a part of this fair. She stated that their company has been participating in the fair for several years now. She rates the show a 10 out of 10 and claimed that the shows have been really good not just now, but from the very beginning and that EPCH is very supportive of them.
Mr. Lekhraj Maheshwari, a former chairman and association member of EPCH, is a senior and veteran handicrafts exporter with tremendous knowledge and experience in the industry. He represented Rohit International which is a handicraft and textile manufacturing company that employs 2 lakh women and ships their products to countries like USA, England, Italy, France, Switzerland, etc. "We are satisfied, EPCH people have done a tremendous job," Mr. Maheshwari said and rated the organizers a 10 out of 10.
Savanna International is showcasing artificial jewelry at the fair. They are in this business for the past two years. The promoter Mr. Sandeep stated that he is very happy with how things are going, especially after the hardships of Covid – 19. "Today an interesting incident happened. One of our customers, she came in and she said there has been a very good response in sales. A lot of customers are on a buying spree," said Mr. Sandeep. He stated that he is looking forward to 2023. "It's going to be a fantastic show," he said.
The fair showcased a well spread product range with fashion jewellery; semi-precious jewellery; belts & wallets; hand bags & purses; fashion accessories; head & hair accessories; stoles & scarves; shawls; embroidered, beaded & sequined accessories; fancy footwear; artisanal apparel; protective wear; and components. 150+ exhibitors with products in five display categories, regional artisans and entrepreneurs showcased their new lines at IFJAS and have generated business enquiries to the tune of Rs. 270 crores during the three days of the fair.