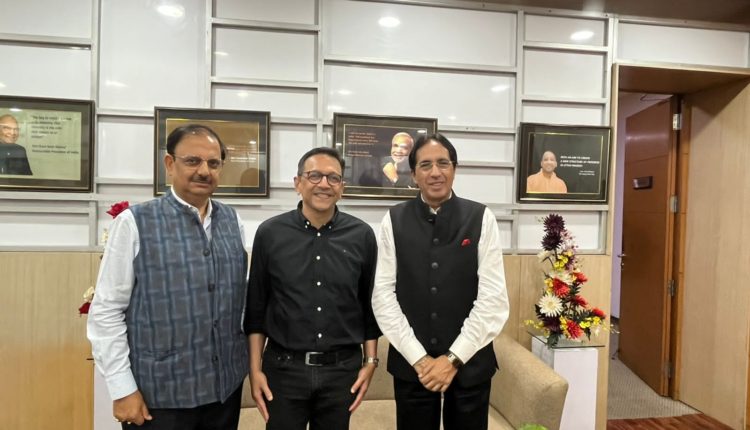 IIGF is the Biggest Garment Fair Across Asia with Buyers from Over 90 Countries: IIGF Chairman Lalit Thukral
Ten News Network

Greater Noida, 23 June 2022: In conversation with Ten News on the third day of the India International Garment Fair Association 2022, Lalit Thukral, Chairman of the International Garment Fair Association stated that the IIGF is the biggest garment show across India with phenomenal footfall.
"This year we have got buyers from over 90 countries including Spain, Dubai, UK, Germany, Australia and so on. While we have got excellent responses from Dubai and Australia, our government has done a lot of FDA in these countries. We have got buyers who have hundreds of stores," said Thukral, President of Noida Apparel Export Cluster.
He also highlighted that in the India International Garment Show , we have 95% of the stalls for women's garments, 10% for children and the rest 5% for men's garments as people prefer women's apparel from North India.
The exporters at the exhibition have varieties of tunics, small tops, skirts, blouses, dresses, mini dresses, trousers, so anything girls are wearing, we have, he added.
Talking about their expectations from the fair, the chairman of IGFA said that approximately $200 million dollars business was done previously. This year they are expecting $350 million dollar business as it is a continuous process and the business is also growing with amazing footfall.
Talking about the increasing footfall at the garment fair, he said that over 6-7 years back, people used to come and place orders, after that people had stopped placing orders here on the table. They would take samples, and after approval they would give pre-sold goods. However, in this edition of the fair, every store is getting quality customers and some stores are booking orders straight away. Be it small quantity like 600 pieces per style, altogether 6000-10000 pieces.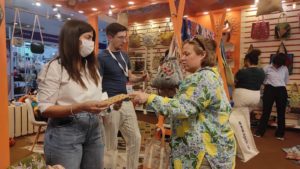 "It is also because there is uncertainty in China. Foreign buyers are scared if they will get goods or not and the prices are also increasing there. So, they want some substitute of China. So this is a good time for us and we should definitely catch this opportunity, Thukral reasoned.
When asked about the government's support for the IIGF and textile Industry, Thukral stated that there are 300 stalls here and all are subsidized by the government. For the people from Rajasthan, the Rajasthan govt the MSMEs are providing Rs 80000 rupees reimbursement, while in the Delhi and Gurgaon, they are also getting Rs 80000 rupees reimbursement. But in Uttar Pradesh, Noida is the city of apparel with the scheme of ODOP – one district one product, the UP govt is reimbursing Rs 1.5 lakhs to each participant or to 75% whichever is less.
"Even with the initiatives of the central government with the start of the PLI scheme. In Noida, there are two projects approved for the scheme. We are also making an apparel park on 300 acres. In Noida, we are exporting Rs 35000 crores and after the park, we are expecting to touch Rs 60000 crores, he added.
Addressing the yarn issue, Thukral stated that the government is giving so many facilities. Including the yarn issue, where the government has assured to take steps and we have also witnessed a reduction in the yarn rate.
"There are over 90% stalls by youngsters and this new generation is the new energy for us. Their enthusiasm, new innovative ideas, and excellent business sense will help our industry to grow," he concluded.