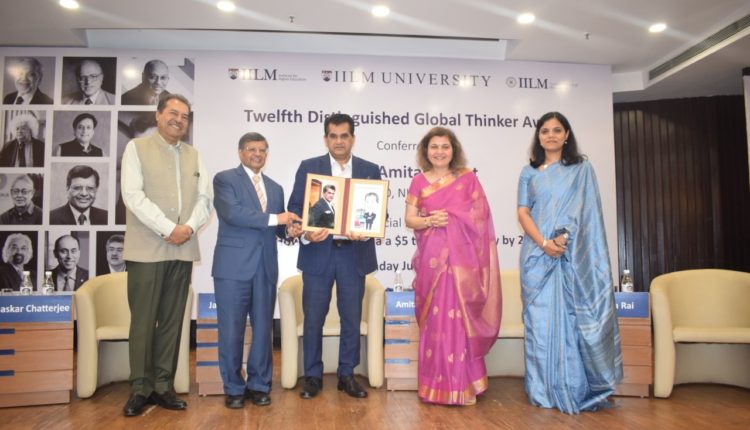 IILM Confers 12th Distinguished Global Thinker Award on Shri Amitabh Kant, CEO NITI Aayog
The 12th IILM Distinguished Global Thinker Award was conferred on  Amitabh Kant, CEO of National Institution for Transforming India (NITI Aayog) and a member of the Indian Administrative Service, IAS (Kerala Cadre, 1980 batch).  Malvika Rai, Chairperson, IILM and Professor Jagdish Sheth, who was IILM's 11th Distinguished Global Thinker in 2018, presented the award to Shri Amitabh Kant.
The Global Thinker Award launched in 2006 celebrates and honours distinguished individuals who have contributed substantially to the global stream of consciousness, ideas and knowledge, and have made a significant difference in the national and global community. In the past years, IILM has conferred the Global Thinker Award on Lord Bhikhu Parekh, Dr M S Swaminathan, Professor C K Prahalad, Mr Sam Pitroda, Lord Meghnad Desai, Dr Shashi Tharoor, Professor Andre Beteille, Professor Soumitra Dutta, Mr Naveen Jain, Professor Ashish Nanda and Professor Jagdish Sheth.
This year IILM honoured Amitabh Kant who is a thought leader and innovator par excellence. He is the author of the book 'Branding India: An Incredible Story' and has recently edited the book 'The Path Ahead: Transformative Ideas for India' that are testament to his deep commitment to the vision of transformation of India and the role of policy makers, industrialists, academicians and common man.  Shri Kant, who has been a key driver of 'Make in India', 'Startup India', 'Incredible India' and 'God's Own Country' initiatives that positioned India and the state of Kerala as leading manufacturing and tourism destinations, vigorously drove the 'Ease of Doing Business' initiative and ranking of States on outcome parameters in his capacity as Secretary (Department of Industrial Policy and Promotion) Government of India. These initiatives have led to India making a quantum jump in the World Bank's 'Ease of Doing Index' and enabled Indian States to compete in the spirit of competitive federalism. 
The recipient of Economic Times Policy Change Agent of the Year Award, the Bloomberg TV Personality of the Year Award, the NDTV Administrator of the Year Award and the Distinguished Fellowship of the Institute of Directors, Shri Amitabh Kant, who is a Thinker and Doer, is a Member of the Steering Board of 'Shaping the Future of Production Systems' of World Economic Forum and has received the Sir Edmund Hillary Fellowship awarded by the Prime Minister of New Zealand.
In the opening remarks about the IILM Global Thinker Award, Dr Bhaskar Chatterjee, widely acclaimed as the Father of Corporate Social Responsibility (CSR) in India and instrumental in framing and issuing the CSR guidelines for Public Sector Enterprises (PSEs), said, "Shri Amitabh Kant has moved seamlessly from being a bureaucrat to CEO of NITI Aayog and he is someone who doesn't spend time criticizing the system but uses it to achieve things never achieved before."  Dr Bhaskar Chatterjee spoke about how Shri Kant's strengths are ideas, ideation and articulation and said, "he knows how to articulate and disseminate ideas in a manner that average human being can understand and connect with."   
Shri Amitabh Kant spoke on Prime Minister Modi's mission of India moving towards becoming a $ 5 trillion economy by 2025. He spoke about what needs to be done to move in the direction of a $5 trillion economy and said, "The challenge is not about becoming a $5 trillion economy but about India growing at 8 per cent per year till 2025 and lifting a huge segment of population above the poverty line." Explaining how no country has grown without penetrating global markets, he said, "I am a great believer in globalization and opening up the country and it is important that India pushes itself towards globalization and becomes an advocate for globalization."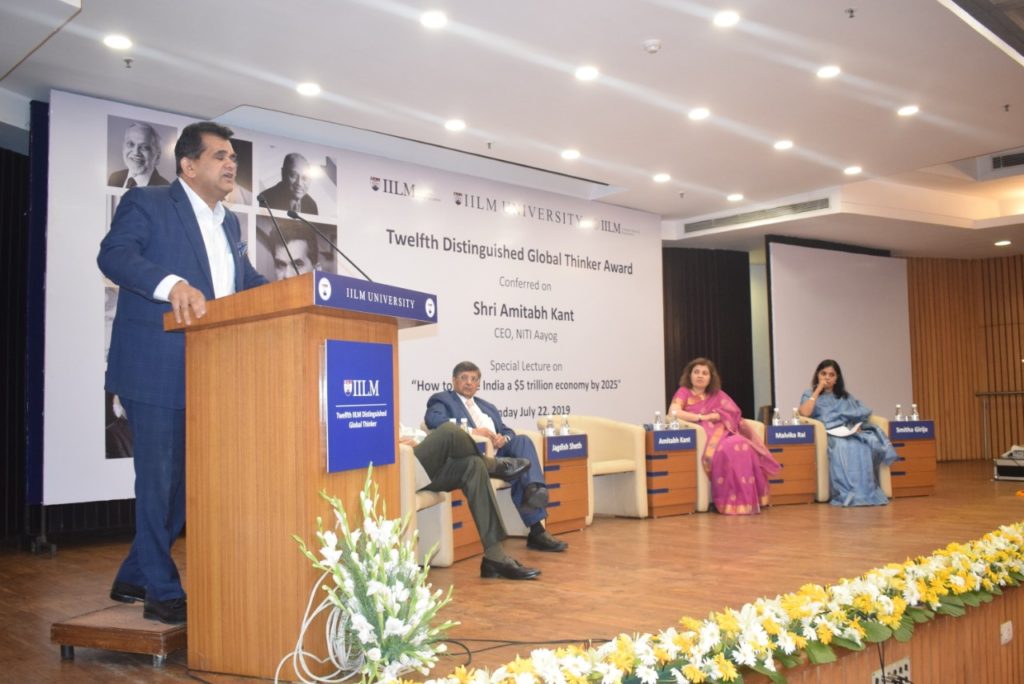 Amitabh Kant spoke about several things that are important for India in its goal to becoming a  $5trillion economy including moving into sunrise industry, structural reforms, GST and Real Estate Regulation Act (RERA), urbanization, removal of gender disparity, focus on health and education of women and increase in exports. He noted that since 58% of Indian population is agricultural we need a second Green Revolution.  
Professor Jagdish Sheth,  Professor at Goizueta Business School, Emory University, USA,  welcomed Shri Amitabh Kant to the select club of IILM Global Thinkers and reiterated Shri Kant's thoughts when  he said, "India has all the ingredients and the time is right for it to grow into a powerful economy."   
The event was well attended by distinguished guests and IILM faculty and students who were impressed and inspired by Shri Amitabh Kant's passionate speech. IILM, which supports Prime Minister Modi's mission of India becoming a $5trillion economy by promoting Employability, Skills and an Entrepreneurial mind set through quality education, is proud to have Shri Amitabh Kant as its 12th Distinguished Global Thinker.