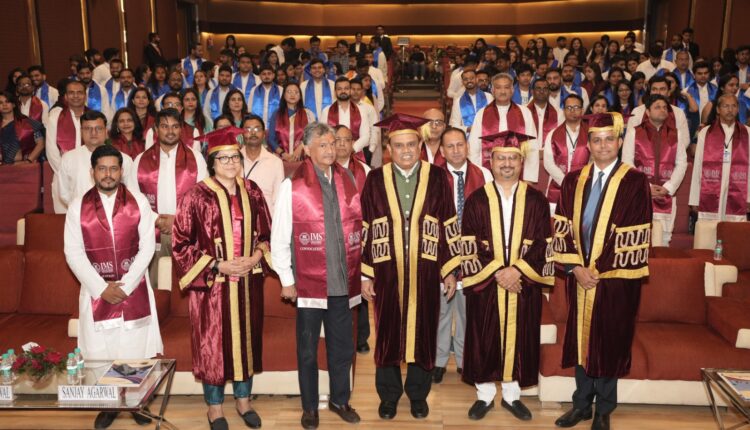 IMS Ghaziabad organizes 32nd Annual Convocation 2023
TEN NEWS NETWORK

IMS Ghaziabad organized its grand 32nd Annual Convocation 2023 for PGDM Batch 2021-23 on October 13, 2023 at the institute campus. Distinguished Chief Guest, Prof. T.G. Sitharam, Chairman, All India Council for Technical Education; Naresh Agarwal, Chairman, IMS Group of Institutions; Guest of Honor, Abhishek Tiwary, Sr. Vice President, HR, Tech Mahindra; Pramod Agarwal, Governing Council Member; Dr. Prasoon M. Tripathi, Director, IMS Ghaziabad, conferred 175 PGDM diplomas to the enthusiastic post-graduate students. The dignitaries congratulated the exuberant students and wished them a bright and successful career ahead.
Inspiring the graduating students, Prof. T.G. Sitharam emphasized that "The dream of Honourable Prime Minister of India for 'Viksit Bharat' can be fulfilled by the efforts and perseverance of the youth of the nation" and praised the commitment of IMS Ghaziabad for imparting value based quality management education.
Abhishek Tiwary, Sr. Vice President, HR, Tech Mahindra motivated the students and said "Keep your eyes open for opportunities, discover your full potential, be kind, build your network and above all, exhibit values & ethics in all your endeavours".
"Today, we stand at the threshold of a new beginning, a momentous occasion where dreams converge with determination, and the future beckons with open arms" said Director, Dr. Prasoon M. Tripathi. Presenting the Annual Report, he highlighted that students of IMS Ghaziabad actively participated in the Nusantara Project, an initiative by AIBPM, Indonesia and presented their research findings in the 2023 Tokyo International Conference of Project Management. He also shared that the institute has been awarded a research grant of Rs.10 lakh from Indian Council of Social Science and Research (ICSSR).
During the ceremony, meritorious students were awarded medals and cash scholarships for academic excellence. Shally Sangwan received cash scholarship of 25,000 (Gold Medal); Mahak Bansal & Pratyaksha Shankar 15,000 each (tie for Silver Medal) and Aayushi Varshney 10,000 (Bronze Medal) amidst loud applause. Further, Vaibhav Nagpal & Alok Tripathi were awarded 15,000 each and were recognized with "Outstanding Student Award" and "Leadership Excellence Award" respectively.
Coordinated by Dr. Vaishali Agarwal, Dean Academics & Dr. Pushpender Kumar, Controller of Examinations, the mega academic extravaganza concluded on an optimistic note with promises of heightening the future benchmarks of the institute.