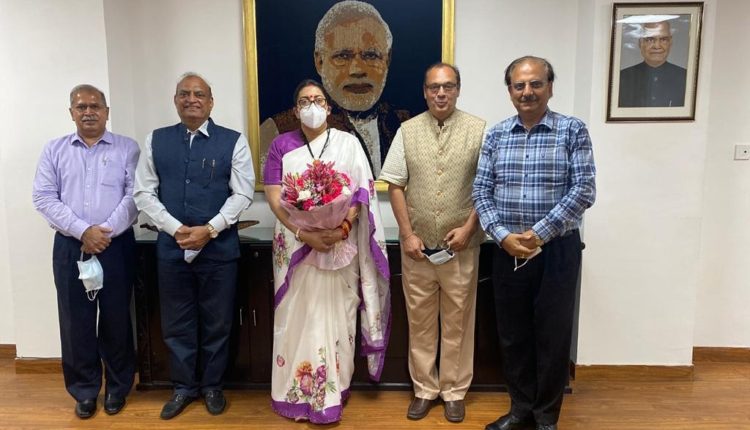 In a meeting with EPCH officials, Minster of Textiles assures full support for the growth of Handicrafts sector

New Delhi – 15th June 2021 – Raj Kumar Malhotra, new Chairman-EPCH along with Ravi K. Passi, Immediate Past Chairman-EPCH, Dr. Rakesh Kumar, Director General-EPCH and . R.K. Verma, Executive Director-EPCH met Union Minister of Textiles and Women & Child Development, Smriti Zubin Irani today and apprised the Minister about the performance of exports of handicrafts for the year 2020-21 which has shown marginal increase of 1.14% (in Rupee terms) over the same period last year.
During the discussion, Raj Kumar Malhotra, Chairman-EPCH also raised certain issues pertaining to promotion of exports of handicraft and sought intervention of the Minister. The issues raised included restoration of provision of duty free import of essential embellishments, trimmings, tools consumables for handicrafts sector; release of funds of MEIS; setting-up regulatory body for shipping lines and freight forwarders; coverage of pre shipment risk by ECGC; restoration of option to export on payment of IGST or under bond or LUT; setting up a warehousing facility at USA.
The #EPCH leadership today met Honble @smritiirani to talk about the developments in the #Industry which had a 1.5% YoY growth.

The Chairman also requested for Duty free Import of Embellishments required for the sector.

The Honble @TexMinIndia has promised her full support. pic.twitter.com/mVgF4dMShP

— EPCH India (@epchindia) June 15, 2021
The Minster of Textiles patiently heard all the suggestions raised by the Chairman-EPCH and complimented the handicrafts sector for its efforts during COVID pandemic on achieving exports of over Rs. 25,558 crores (USD 3443 million). Minister assured her Ministry's full support to the Council towards growth and development of the handicrafts sector, informed Dr. Kumar.
The exports for the month of (April- May) 2021-22 (provisional) is at Rs. 2538.09 crores (US$ 343.49 million) and a growth of 175.67% has been registered in rupees terms and 183.34% in dollar terms.