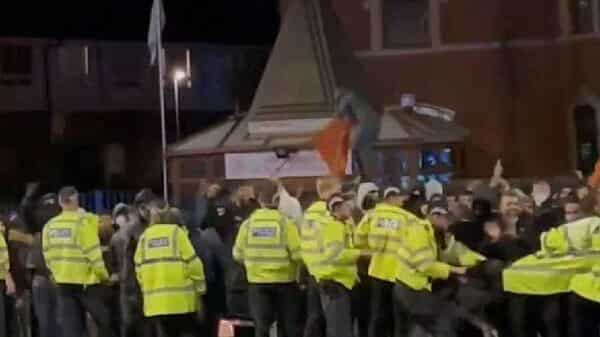 Delhi, Sept 20th, 2022: A Hindu temple in England's Leicester was vandalized and targeted by Muslims on Sept 19th after which the High Commission of India in London released a statement saying that they demand immediate action.

"We have strongly taken up this matter with the UK authorities and have sought immediate action against those involved in these attacks", it said in the press release.
Trouble was reported to have begun after the Aug 28th India-Pakistan Asia Cup cricket match and escalated over the weekend. Tension erupted between the two groups which resulted in the destruction of temple property and holy symbols.
The temple was targeted in the presence of the UK Police. The saffron flag outside it was pulled down by unidentified persons in East Leicester.
Hindu homes and vehicles were allegedly targeted by local radical Islamists on the streets of Leicester.
As many as 47 people have so far been arrested for involvement in the violence, according to the Leicestershire Police.