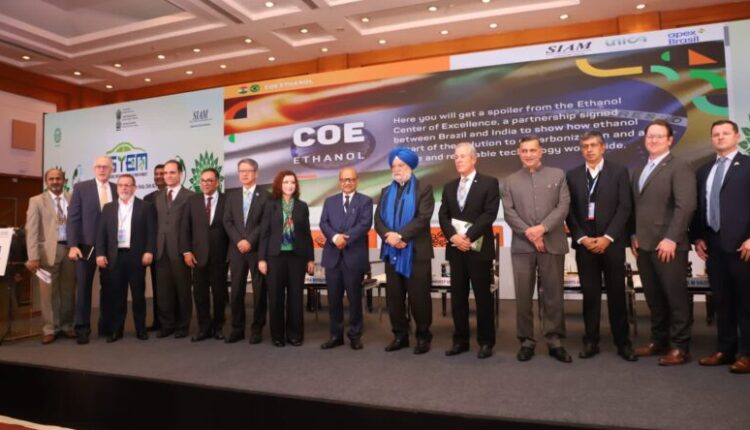 India is the front runner in mitigating climate change globally: Hardeep Puri at Auto Expo 2023
Ten News Network

Greater Noida (13/01/2023): "India is the front runner in mitigating climate change globally and is progressing fast on its energy transition agenda. Today's event marks the extent to which India is willing to innovate to keep its pledge of protecting the environment while simultaneously addressing the growing demand for energy", said Hardeep S. Puri.
Speaking at Auto Expo-2023, the Minister for Petroleum and Natural Gas said that for automobile industry, the event will be an exposition of our technology, capability and vision of the mobility for tomorrow-safer, cleaner, connected and shared. For the visitor, it will be an experience of the mobility eco-system that is unfolding every day and offering better solutions for all our requirements. "It will also provide a platform for domestic & international investors and other stakeholders", he said.
The Auto Expo- 2023 with the theme "Explore the World of Mobility" is being organised by Automotive Components Manufacturers Association of India (ACMA), Confederation of Indian Industry (CII), and Society of Indian Automobile Manufacturers (SIAM).
The event is expected to feature more than 100+ companies and 30000+ attendance. "It will provide a unique opportunity to showcase India as both an engine of global economic growth and a driver for global consumption, supported by a conducive and investment-friendly environment, and a skilled workforce.", emphasised Hardeep S. Puri.
Talking about the progress made by India in terms of ethanol blending, the Minister said that we have increased the ethanol blending in petrol from 1.53% in 2013-14 to 10.17% in 2022, which was well ahead of November 2022 deadline and advanced its target to achieve 20% ethanol blending in petrol from 2030 to 2025-26. He said that this has resulted not only augmenting the country's energy security but also translated into a forex savings of over Rs. 41,500 crores, reduced GHG emissions of 27 lakh MT and has benefitted farmers with expeditious payment of over Rs.40,600 crores made to the farmers.
The Minister also mentioned about the reduction in Security Deposit amount from 5% to 1% extending a benefit of around Rs. 400 crores to ethanol suppliers for Ease of Doing Business and reduction of the GST on Bio-fuel from 18% to 5%.
The Minister said that Government is setting up five 2G ethanol bio-refineries in the country at Panipat (Parali) in Haryana, Bathinda in Punjab, Bargarh (Parali) in Odisha, Numaligarh (Bamboo) in Assam and Devangere in Karnataka.
"We are also launching a Global Alliance on Biofuels, along with USA and Brazil during India's Presidency of G20", he said.
In his concluding remarks the Minister invited all the stakeholders in energy sector to attend the India Energy Week (IEW) being held from 6th to 8th February 2023 at the Bangalore International Exhibition Center (BIEC), Bengaluru. The first edition of IEW is themed on "Growth, Collaboration and Transition" and is expected to feature more than 30 energy Ministers, 50+ CEOs of global companies, 650 exhibitors and 30000+ attendance.