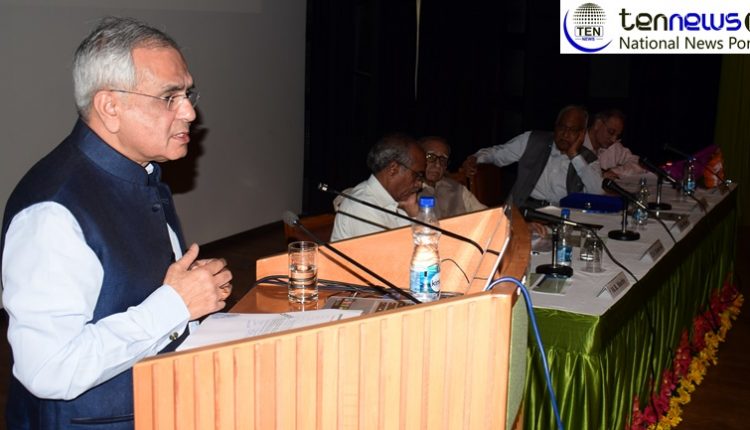 India needs to accelerate growth to match China says Niti Aayog Vice-Chairman Dr. Rajiv at ISID Foundation Day
Prerit Chauhan (Photo/Video) By Lokesh Goswami Ten News Delhi :
New Delhi: The Institute for Studies in Industrial Development (ISID) observed its 31st Foundation Day today, at the ISID campus in Vasant Kunj. DR. Rajiv Kumar Vice Chairman, NITI Aayog, Government of India was the Chief Guest at the function. A large number of guests, academics, bureaucrats, journalists, etc. graced the occasion.

The Institute for Studies in Industrial Development (ISID), successor to the Corporate Studies Group (CSG), is a national-level policy research organization in the public domain and is affiliated to the Indian Council of Social Science Research (ICSSR). Developing on the initial strength of studying India's industrial regulations, ISID has gained varied expertise in the analysis of the issues thrown up by the changing policy environment. The Institute's research and academic activities are organized under the following broad thematic areas.

Speaking on the occasion, Vice Chairman, Niti Aayog, Dr Rajiv Kumar Said, "There is something going or buzzing in Indian economy which will make a paramedic shifts. The shift is essential and critical. The young people of our country and the aspirations of youth has been exploded. We must accelerate our rate of growth. The external threat we have or we can say challenges that we have from northern part needs to be taken care of. China now have huge deep pockets. They are building roads and infrastructure. They are all around us. If we don't empower us there can be some problems."

Speaking to Ten News Exclusively, Dr. Rajiv Said, "India and China two economies were relatively close in terms of economic output previously but now China's economy is five times bigger, and China's defense budget is three times larger than India's. We have to accelerate rate of growth, certain expenditure such as those for health and education could be viewed as capital expenditure as they promote productivity gains in the long run. The focus should be on to build more and more infrastructure and concentration on the efficiency of public spending and performance."