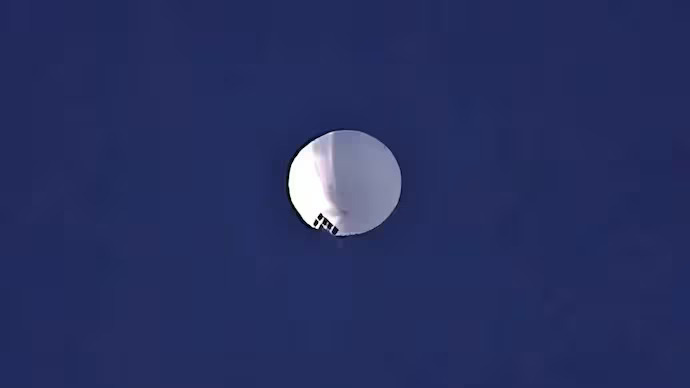 India Revisits Mysterious Balloon Incident After US-China Balloon Spat
Ten News Network
Delhi (India), February 25, 2023: Indian officials are revisiting a mysterious incident that occurred on a strategic island chain close to Singapore over a year ago, in which locals spotted a giant balloon similar to the one that the US recently shot down, alleging it was part of Chinese surveillance.

The incident caused alarm within India's defense establishment, as the Andaman and Nicobar islands are situated near the Malacca Strait, which is a crucial bottleneck for the transportation of energy and goods to China and other North Asian countries.
As hundreds of people snapped photos of the object that lit up social media, India's defense officials are now developing protocols to improve their ability to detect similar threats and respond more quickly in the future. Unlike the US, which used an expensive missile to bring down the suspected Chinese surveillance balloon, India prefers cheaper options such as fighter jets or heavy machine guns attached to transport aircraft.
Multiple officials familiar with the matter revealed that the object had suddenly appeared over the island chain, slipping past numerous Indian radar systems before drifting southwest into the ocean. The officials were reluctant to speculate on the origin of the balloon, and representatives of India's Ministry of External Affairs, the navy, and the air force declined to comment.
The US-China balloon dispute has derailed the brief detente between the world's two largest economies following President Joe Biden's meeting with Chinese leader Xi Jinping in November. While Beijing has claimed that the device was a civilian craft collecting weather data, the US has alleged that it is part of a long-running Chinese surveillance program and that similar aircraft have been deployed globally.
Images captured from high-altitude and slow-moving balloons could complement satellite imagery and help in better understanding the terrain, communication systems in use, and soil quality of the areas, according to sources.
India is hosting the Group of 20 meetings this year and seeks to avoid stoking diplomatic rifts as it pursues its goals, such as alleviating the debt burden of developing nations.