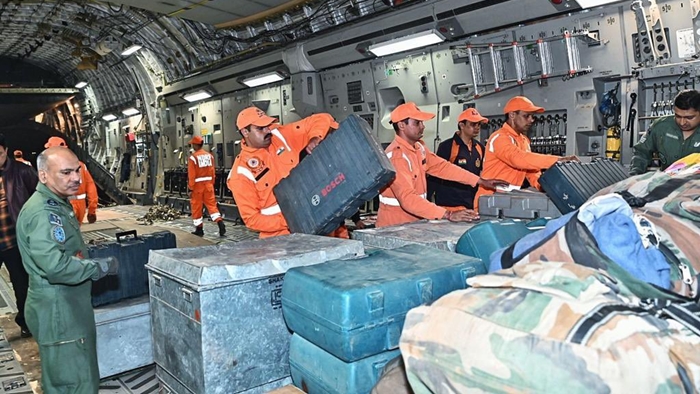 India rushes aid to quake-ravaged Turkey and Syria
Ten News Network
India, 7th Feb 2023: India has dispatched the first batch of aid to the earthquake-stricken Turkey and Syria on Tuesday, February 7, 2023, with an Indian Air Force C-17 taking off in the early hours.

The move comes after Prime Minister Narendra Modi declared on Monday, February 7, 2023, that "India will provide all possible assistance," and in a meeting led by P.K. Mishra, Principal Secretary to the PM, attended by the Cabinet Secretary and representatives of relevant ministries, it was decided to send search and rescue teams of the NDRF and medical professionals immediately.
The Indian Air Force (IAF) said on Twitter that the first C-17 got airborne for Turkey at 03:09AM, with Search & Rescue teams of the National Disaster Response Force (NDRF).
External Affairs Minister S. Jaishankar said on Twitter that the plane had arrived in Adana, Turkey, with more than 50 NDRF Search & Rescue personnel, specially trained dog squads, drilling machines, relief material, medicines and other necessary utilities and equipment.
He added that a second plane was being readied for departure. Two more C-17s are planned for Turkey later on Tuesday, with 60 Para Field Hospital and personnel. The field hospital was mobilised by the Indian Army hours after announcement of assistance.
Turkish Ambassador to India Firat Sunel expressed his gratitude towards the Indian government's offer of assistance, saying that "a friend in need is indeed a friend".
The relief effort comes after Turkey and Syria were hit by massive earthquakes on Monday that killed hundreds of people in both countries. India has sent search and rescue teams and medical professionals to both countries, and is providing relief material, medicines, and other necessary utilities and equipment.