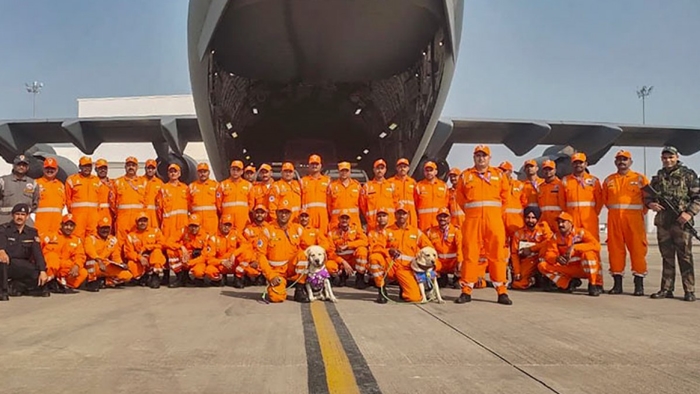 Indian NDRF Team Returns with Gratitude and Love from Quake-Hit Turkey
Ten News Network
Delhi (India), February 22, 2023: A team of 152 Indian National Disaster Response Force (NDRF) personnel, who were sent on a mission to quake-hit Turkey, have returned home with a heart full of love and gratitude for the people of Turkey.

The mission, which began on February 7, included five women rescuers, among whom was Constable Sushma Yadav (32). She had to leave behind her 18-month-old twins to answer the call of duty.
The team rescued two young girls alive, retrieved 85 bodies from the debris, and was felicitated on Monday at Prime Minister Narendra Modi's official residence at 7, Lok Kalyan Marg.
The Ministry of External Affairs processed hundreds of documents to prepare more than 140 passports overnight so that NDRF personnel could reach Turkey.
The team encountered several challenges while in Turkey, both emotional and professional. One of the locals, grieving the deaths of his wife and three children, made sure Deputy Commandant Deepak got his vegetarian food wherever he was deployed.
The team bonded with the locals and received numerous WhatsApp messages thanking them for their assistance. They even received military patches and other military decorations on the uniforms of the Indian rescuers.
The team returned to India with the love and affection of the people of Turkey and donated their tents, food, personal clothes, and warm clothes for the locals and the Turkish rescuers.